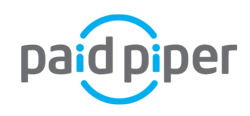 "Working with MasterCard is a first step in launching Paidpiper's Mobile CRM strategy, which intersects mobile payments and redemption with brand engagement. What we are providing is the next generation real-time direct Mobile CRM capability
New Orleans, LA (PRWEB) May 08, 2012
Businesses and brands now have a new direct channel to engage and simultaneously transact with consumers by driving incentives to their customers in real-time and watching them redeem "cash" incentives using their mobile phones.
Working with the MasterCard OpenAPI as a marketing partner as well as a launch partner for the MoneySend API, will allow Paidpiper to extend its platform and reach to a global audience by deploying MasterCard prepaid cards on mobile phones in return for business engagement. Paidpiper will soon follow up with additional functions that continue to simplify the complex world of mobile and payments.
Atif Hussein, CEO of Paidpiper, comments, "Working with MasterCard is a first step in launching Paidpiper's Mobile CRM strategy, which intersects mobile payments and redemption with brand engagement. What we are providing is the next generation real-time direct Mobile CRM capability – initially we are demonstrating a way to get cash for brand engagement and instantly use it with your mobile phone."
To showcase the platform, Paidpiper has built an initial iPhone App that is able to use the consumers' existing 'social' credentials or a traditional 'business card' to create a 1:1 'Personalized Mobile Engagement' on their mobile phones.
David Butler, business leader for the MasterCard OpenAPI commented, "With the OpenAPI, we provide developers outside of MasterCard with a gateway to access our powerful global technology, as well as our data and services. We created the OpenAPI to encourage the development of new products, using MasterCard's products and services APIs, to solve new or existing payment or payment-related business challenges in interesting ways, and Paidpiper is doing just that. We're looking forward to seeing how the App develops, and the innovative perspective they bring to this space".
About Paidpiper Inc.
Paidpiper Inc, http://www.paidpiper.com, is the maker of cloud-based, location aware CRM platform enabling social-mobile applications for businesses and brands. The Paidpiper platform is designed to engage customers in real-time, and directly provide visibility to the business on what the consumer wants, likes, and is asking for. This key insight can be measured and is immediately actionable to generate additional transactions. Paidpiper was founded by a group of Silicon Valley Mobile veterans who had a vision to simplify the overly complex world of payments by using the mobile phone as an end point. They are backed by a group Silicon Valley and New York Investors.
About MasterCard
MasterCard (NYSE: MA), http://www.mastercard.com, is a global payments and technology company. It operates the world's fastest payments processing network, connecting consumers, financial institutions, merchants, governments and businesses in more than 210 countries and territories. MasterCard's products and solutions make everyday commerce activities – such as shopping, traveling, running a business and managing finances – easier, more secure and more efficient for everyone. Follow us on Twitter @MasterCardNews, join the discussion on the Cashless Conversations Blog and subscribe for the latest news.