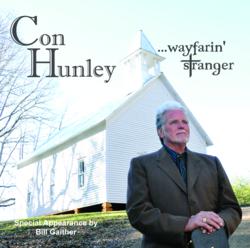 Gospel icon Bill Gaither performs a duet with country veteran Con Hunley on the new release.
Nashville, TN (PRWEB) May 08, 2012
IMMI Records announces the May 15th release of a new gospel project by country veteran Con Hunley. Titled Wayfarin' Stranger, the project features a mix of old favorites and inspiring new songs, and includes a guest appearance by renowned gospel icon Bill Gaither.
Ever since the release of Sweet Memories, the 2005 critically acclaimed comeback record from the 70's and 80's hitmaking country crooner, Hunley has had the idea of a gospel project in the back of his mind. Some of Hunley's earliest memories are of the gospel music performances in church by his parents, and he wanted to record a gospel project as a tribute to their influence and support of his musical talent and to their love of gospel music.
Bill Gaither, arguably the best-known gospel writer and performer in the world, encouraged Hunley to pursue the project that eventually became Wayfarin' Stranger. On a boat outing a few years ago with friends, Hunley performed his interpretation of Kris Kristopherson's "Why Me, Lord" accompanied by Gaither on the piano. Hunley's version touched everyone present, and Gaither was adamant that Hunley should cut the song. At Gaither's urging, Hunley included "Why Me, Lord" on his 2006 release Shoot From The Heart. So it was natural that once he decided to begin work on Wayfarin' Stranger that he would ask Gaither to contribute. Together, they selected "Peace In The Valley," which both of them loved and was a favorite of Hunley's mother and father.
Hunley and his longtime producer, Grammy award-winner Norro Wilson selected eleven additional gospel songs, both new and old, for the endeavor. With the addition of "Amazing Grace" from Sweet Memories, "Why Me, Lord" and "Hollow Man" from Shoot From The Heart, and "Surely The Presence" from Lost and Found: The MCA/Capitol Years, Wayfarin' Stranger is a compilation of sixteen songs delivered in Hunley's soulful, inimitable style.
One of the songs included was written by Hunley's mother, Priscilla Clodell Brewer Hunley, when she was only sixteen years old. "When I Was A Sinner" is a beautifully simple song with a powerful message.
"I remember whenever Mother performed in church and at gospel "singings" as they were called, someone always requested "When I Was A Sinner," Hunley said. "I tried to capture the essence of my mother as I recorded this song."
Hunley adds, "This project was an emotional undertaking for me that was so spiritual and moving that at times it was overwhelming for me and others working on this project, including my brother and sister who sang background vocals. I feel so blessed to be able to do what I love and I know my parents would be very proud."
###
Visit http://www.conhunley.com for more information about Con Hunley. Interviews can be scheduled by contacting Ruthie Akers at IMMI Records at ruthie(at)immirecords(dot)com or by phone at (865) 523-2192.