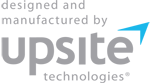 The HotLok White Blanking Panel offers the added bonus of increasing light reflectivity so the data center will be brighter and better illuminated," said Erez Borowsky, Vice President of Upsite Technologies
Albuquerque, NM (PRWEB) May 15, 2012
Upsite Technologies, Inc. the "pioneering company in airflow management solutions" announces the HotLok White Blanking Panel, the latest product from the HotLok® rack airflow management solutions and the award winning patented LOK Family of Solutions™.
HotLok White Blanking Panels are engineered to offer light reflectance properties for energy savings by increasing the reflectivity in the server cabinet and reducing the amount of lighting required. At normal data center lighting levels, the white blanking panel offers 3.5 times the reflectance of a standard black blanking panel. This means more brilliancy in the data center and better illumination of surrounding surfaces and computer cabinets. White blanking panels are available to coordinate with white racks and enclosures for improved aesthetics.
"Upsite is committed to helping data center managers lower their energy costs and minimize the carbon footprint. We look at all available methods for engineering our products with energy efficiency in mind. We work hand in hand through our strategic partners who support data center managers in their efforts to improve their overall operations," said Erez Borowsky, Vice President of Marketing, Product and Sales. "Our HotLok Blanking Panels are designed to control airflow for optimized cooling effectiveness. The HotLok White Blanking Panel offers the added bonus of increasing light reflectivity so the data center will be brighter and better illuminated."
HotLok Blanking Panels are designed to effectively seal openings in IT equipment cabinets and control airflow for optimized cooling effectiveness. They reduce hotspots and bypass airflow by preventing equipment exhaust air or hot aisle air from migrating to the conditioned air intake stream at the front of the cabinet. HotLok Blanking Panels are available in both 1U and 2U configurations and a choice of traditional black or a more reflective white.
Known as the "pioneering company in airflow management solutions" Upsite Technologies, Inc. was founded in 2001 by Ken Brill, who in 1993, had established the Uptime Institute, a think tank dedicated to understanding, improving, educating and expanding awareness of uptime and optimal efficiencies in data centers. Upsite Technologies leveraged the experience and knowledge obtained at the Uptime Institute to create its initial energy-efficiency products and services including the first KoldLok® product, the Integral grommet. Upsite continues to successfully engineer, design and manufacture a series of precision sealing solutions from our award winning, patented LOK Family of Solutions™. Sharing the science and executing it to optimize the data center is what sets Upsite apart in the industry. Upsite Technologies' products and services empower data center managers to leverage cost savings and/or improve key elements of data center operations. The company is partnered with proven leaders in the data center airflow management industry throughout the United States, EMEA and Asia Pacific markets. For further information please visit http://www.upsite.com.