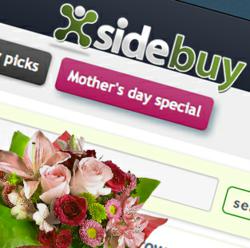 ...the newly added section for Mother's Day special occasion, provides convenience for users to easily search for related deals ...
Vancouver, BC (PRWEB) May 09, 2012
SideBuy.com, which lets users search for daily discounts among all coupon providers, in locations from Vancouver to New York, will connect visitors with numerous discounts on Mother's Day gifts this year. With more and more businesses offering discounts on products and services for Mother's Day, it can be difficult to know where to start searching for the perfect gift. That's why Sidebuy.com has already done the leg work, collecting and organizing all offers.
Searching by price range, location, deal source, or all three, for the term "Mother's Day" on Sidebuy.com will lead visitors to a wide range of options such as:

a family four-pack to play miniature golf
a large bouquet of flowers
a wine and chocolates basket
a burlesque workshop
even an ocean front villa with a personal chef
For those who like to wait until the last minute to shop, Sidebuy has them covered. One of Sidebuy.com's cutting edge features is its ability to geo-target a specific location, so anyone standing on the street can immediately find the best deals nearest to them. Discounts often range from 15% to 85% off regular prices on both local and national deals.
"Some people searching for Mother's Day gifts are not even sure where to begin looking," says Ramin Behzadi, Sidebuy's co-founder and CEO. "Not only does our website offer deep discounts, but there are countless ideas that mothers will love. Visitors can even see how many views each deal has had or add a certain deal to their watchlist to purchase later."
Sidebuy.com acts as a search engine for daily deals. It offers a fast and fun way to access all coupons without having to read several different emails or search on several different discount coupon websites. Deals can be offered by their price, category or location. Sidebuy.com connects its users with daily deal providers in Australia and the UK, as well as across the United States and Canada.
About SideBuy.com
SideBuy.com is the most comprehensive daily deal aggregator that lists all deals available in Canada, US, Australia and United Kingdom. By compiling such a vast list, SideBuy can offer users up to 90% discounts from all over the web and is the most efficient way to score the best deals. Sidebuy was created and launched in March 2011 as the search engine of daily deals to offer a fun and practical way of searching with the added bonus of a geo-location ability to find offers nearby. They also share some of the best deals with their Facebook fans and Twitter followers @sidebuydeals.