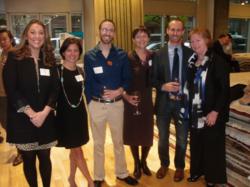 I enjoyed the experience of closely reviewing the work and philosophies of each designer. We rarely get the opportunity to take an in-depth look at the thinking and philosophies behind their efforts.
Boston, MA (PRWEB) May 14, 2012
Sally Wilson, ASID from the award winning interior design firm Wilson Kelsey Design, shared her expertise and insights as a member of the esteemed judging panel for New England Home magazine's 5 Under 40 Awards. Now in its third year, the 5 Under 40 awards program recognizes five talented young professionals under the age of forty who are emerging as New England's hottest residential design talent. The program encompasses the fields of architecture, interior design, furniture, and home accessories. "Serving as a judge allows the mentoring part of me to come out," notes Wilson, "I enjoyed the experience of closely reviewing the work and philosophies of each up and coming designer. We rarely get the opportunity to take an in-depth look at the thinking behind their efforts when we meet them at professional events, or through social media networks."
The 5 Under 40 award recipients for 2012 are John Day of LDa Architecture & Interiors, Cambridge, Massachusetts - Interiors & Architecture; Asher Dunn, Studio Dunn, Providence, RI – Furniture; Amy Aidinis Hirsch, Amy Aidinis Hirsch Interior Design, Greenwich, CT – Interiors; Elizabeth Stiving-Nichols, Martha's Vineyard Interior Design, Vineyard Haven, MA - Interiors & Furniture; and Kelly Taylor, Kelly Taylor Interior Design, Providence, RI - Interiors. New England Home's editor-in-chief, Kyle Hoepner noted that these young designers were already making their mark and that their beautiful and inspiring work would allow them to take their place among New England's design leaders. Joining Sally Wilson, ASID on the judging panel were Jill Goldberg, interior designer and owner of the home-design boutique, Hudson, Boston, MA; architect Brad Walker of Ruhl Walker Architects, Boston, MA; and Kyle Hoepner, editor-in-chief of New England Home magazine.
The honorees are each given the opportunity to design a custom rug to be hand-woven in the Nepal-based workshops of Landry & Acari Oriental Rugs and Carpeting, the event's presenting sponsor. All rugs will be displayed and auctioned off at a celebration honoring the winners on September 13, 2012 in Boston. Proceeds from the auction will benefit Barakat, http://www.barakatworld.org, a Cambridge-based charity that works in South and Central Asia to strengthen educational rights - particularly for women and children, by providing basic education, increasing access to higher education, and advancing literacy.

ABOUT WILSON KELSEY DESIGN
Praised for creating elegant, yet genuinely livable homes, the husband/wife team of Sally Wilson, ASID and John Kelsey continues to garner acclamations for their design talents. Their firm has been published both locally and nationally and has received numerous regional and national awards including The Institute of Classical Architecture and Classical America New England's 2011 award for Best Residential Interior Design and Interior Renovation; American Society of Interior Designers (ASID) New England Design Excellence First Place Awards for a Residential Bath and a Residential Space, Dream Home Awards inclusive of a Gold Award for Best Kitchen Remodel, a Silver Award for Best Design of a Condo/Townhouse/Loft, and a Silver Award for Best Bathroom Remodel; a COTY Award for Best Kitchen over $150,000 presented by the National Association of the Remodeling Industry and Silver Prism Awards for Best Kitchen Remodel over $150,000 and Best Interior Design of a Living Area sponsored by the Builders Association of Greater Boston.
The Boston interior design duo is unique in that they bridge the gap between architect and decorator. They share a strong technical background, including the ability to read and prepare architectural drawings. The former producer of This Old House referred to their work as "heavy-duty interior design." In organizing their firm, they have divided the labor between them into the "hard" and the "soft". John designs and details the hard – interior architectural detailing, cabinet design, lighting, interior construction drawings, construction field supervision, and consultant coordination. Sally initiates and implements project concepts inclusive of interior design, furniture, decorative lighting, antiques, fabrics, and color and finish selections. The homes they design are elegant and sophisticated but always with a sense of comfort and livability. With backgrounds in commercial and corporate design as well as private residences the team specializes in a variety of project types.
Phone: 978-741-4234
Website: http://www.wilsonkelseydesign.com
Blog: http://blog.wilsonkelseydesign.com
About 5 Under 40
Begun in 2010, New England Home's 5 Under 40 awards spotlight the hottest emerging talent in residential design in New England, including architecture, interiors, furniture and home accessories. Selected by an all-star committee of regional design leaders, 5 Under 40 winners are the people to watch, producing some of the most beautiful and innovative work available today. For more information visit http://www.nehomemag.com/5UNDER40
About New England Home
Published bi-monthly by Network Communications, Inc., New England Home magazine is the preeminent authority on fine architecture and interior design in New England. As the essential companion for those who have the passion and resources to make their dream home a reality, New England Home is focused exclusively on the luxury homeowner. Companion products and programs include New England Home's Cape & Islands, New England Home's Connecticut, the Online Design Center, Design Discoveries e-newsletters, DesignSherpa, the New England Design Hall of Fame, and 5 Under 40. Online content can be accessed at http://www.nehomemag.com and blog.nehomemag.com
About Presenting Sponsor Landry & Arcari Oriental Rugs and Carpeting
Landry & Arcari offers the largest selection of oriental rugs in New England and a fine array of broadloom carpeting. Founded in 1938, they have showrooms in the Back Bay and in Salem, Massachusetts. Their mission is to empower their clients and designers to create beautiful rugs and have them woven in their own workshops overseas. Landry & Arcari provides the finest rugs at the lowest prices while treating their customers to the best service possible. http://www.landryandarcari.com.