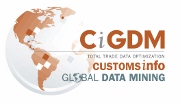 Our auditing solutions help global companies reduce operational costs, and increase the speed, accuracy and scope of internal Customs Audits. We upgrade our clients from obsolete 20th century traditional methods to modern, state‐of‐the‐art solutions
Eden, UT (PRWEB) May 07, 2012
CiGDM offers a free webinar on its state-of-the-art, cloud-based Audit Desktop™ software can lower costs and increase the operational efficiency of work related to customs auditing and record keeping.
When: Available 24/7
Where: Online. Register to access the webinar at https://www1.gotomeeting.com/register/814497177
Who: Matt Gersper, President & Founder, Global Data Mining and co-owner of CUSTOMS Info; Torrey Schoel, Director of Operations, Global Data Mining
What: The webinar will last about an hour and will outline how traditional methods of auditing customs compliance organizations are inaccurate and costly compared to the state-of-the-art solutions that CiGDM offers. There is also a demonstration interface and collaborative features of the Audit Desktop™.
Quote: "Our auditing solutions help global companies reduce operational costs, and increase the speed, accuracy and scope of internal Customs Audits. We upgrade our clients from obsolete 20th century traditional methods to modern, state‐of‐the‐art solutions." -Matt Gersper, President and Founder of Global Data Mining and co-owner of CUSTOMS Info.
Additional Resources: http://www.gdmllc.com/webinars/Default.aspx?webinarId=28
Instant Quote: http://www.gdmllc.com/webinars/28/Audit%20Desktop-%20Instant%20Quote,%20v2.pdf
Article: http://www.gdmllc.com/webinars/28/Customs%20Auditing%20System.pdf
About CiGDM:
CUSTOMS Info (Ci) and its sister company Global Data Mining (GDM) help businesses optimize global trade management (GTM) systems and streamline global trade automation. Ci provides the world's most comprehensive trade data repository delivered via web-based subscription, API web services or as data to populate any GTM or Landed Cost application. Ci is the largest provider of duty and tax content for international e-commerce with hundreds of e-commerce sites utilizing our data to provide accurate landed cost information. Our data and services provide faster deliveries and fewer border delays. GDM helps multi-national companies increase the informational value of trade data and the productivity of global trade staff to reduce operating costs, improve customs compliance, accelerate supply chain speed and maximize the return on investment of this corporate function. Areas of expertise include customs classification research, customs auditing and trade data analytics/business intelligence.
Working in conjunction with GTM applications, Global Data Mining and CUSTOMS Info's strategic partners include SAP, Oracle, and other trade software partners. Please visit http://www.customsinfo.com , http://www.gdmllc.com for more information.