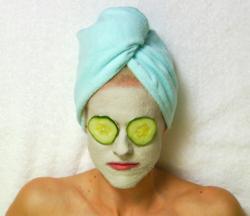 Get ready for Mother's Day, and every day with Turbie Twists
Butler, PA (PRWEB) May 08, 2012
Who doesn't love the idea of going to the Spa? But time and money make it such a headache! This Mother's Day - give the gift of peace and relaxation in the comforts of home, without breaking the bank.
Below are 5 Spa ideas that will sooth and relax Mom on her special day.
1. Set the Stage – Dim the lights and let soft glowing candles set the mood for a tranquil afternoon. Nature inspired relaxation music will turn the average bathroom into a tropical oasis.
2. Start at the Top – The idea of a spa day is for Mom to relax, not create more work. Offer her a plush robe, slippers and a Turbie Twist® to hold her hair back and away from her face.
3. Fresh Face – With hair safely tucked away in a Turbie Twist®, make Mom a home-made hydrating facial mask with ingredients like yogurt, avocado and honey. When it's time to remove, simply wash with warm water…and since the Turbie Twist® holds back bangs and layers, nothing will get wet.
4. Turn up the Heat – An easy trick that makes a world of difference. Place a tube of body lotion on top of a radiator or heating vent for several minutes. Apply warmed lotion over body…don't forget to moisturize feet too, the Turbie Twist® stays in place even when bending over.
5. Wrap it Up – Put the Turbie Twist® to work again, holding hair after a deep conditioning treatment. Raid the pantry for mayonnaise, raw egg yolks and olive oil. Blend together and apply to hair. Wrap up with the Turbie Twist® to hold in the heat before rinsing off.
Hint: Turbie Twists® are great for more than just Spa Days, they are a simple and light weight hair towel that makes the after-bath-routine quick and easy. The best part, like everything mentioned above, they're easy on the wallet, averaging about $5.99.
Get ready for Mother's Day, and every day with Turbie Twists available at retailers like: Fred Meyer, Walgreen's and CVS.
To learn more about Turbie Twist visit http://www.TurbieTwist.com and find us on Facebook, Twitter, and Youtube.
About Turbie Twist, LP
Turbie Twist, LP is the sole manufacturer and distributor of the Turbie Twist® hair towel. The Turbie Twist® is smaller and easier to use than an ordinary bath towel that simply falls off.
The Turbie Twist® is a revolutionary product that allows one to be the ultimate multi-tasker while drying their hair. It's unique twist and loop system makes it the hair towel that stays in place. Featuring a tapered design the Turbie Twist® allows for a perfect fit on all head sizes. It allows users to get dressed, apply make-up, and check email - all while drying their hair.