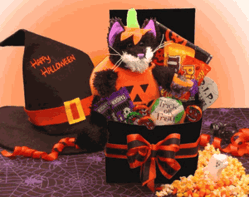 You can never be too prepared!
San Francisco, CA (PRWEB) May 13, 2012
MyGiftBasketIdeas.com announces its plans to compile a report on Halloween Gift Baskets and their contents. The retailer presently offers a number of specials spooky gifts at this page: mygiftbasketideas.com/holiday-halloween-gift-basket.html and aims to structure a report based on customer preferences to help shape a potential new line of 31st October related treats.
A company spokesperson from My Gift Basket Ideas, Inc. explained the move was prompted by the positive reaction to its recent 'early-bird' order program for holiday themed gifts.
"We were so happy from the positive uptake to our 'early preparation drive' that we decided to keep the momentum going with a report on Halloween related tokens. As so many customers have been enthusiastic about thinking ahead, we wanted to use this as an opportunity to assess their preferences in the form of a report of what customers like, do not like and want to see more of from us in the future."
The spokesperson went on to share details about the preferences report and the type of data it will analyze.
"Historical data will come from past purchases of current stock. This will be purely statistical, looking at sales trends. Feedback from these purchases will be assessed, taking into account positive and negative input from customers on what they liked and disliked.
When asked how input from customers will be gleaned, the spokesperson made a direct appeal to customers for them to share their 'wish lists' directly with MyGiftBasketIdeas.com.
"By far the most important input will come from customers that let us know what they want to see featured more of or less of in any potential new lines to be featured on our special Halloween section."
"Therefore, we make a direct appeal to shoppers and invite them to email and call us with their suggestions for great ideas and ways we can make sure any new lines of holiday themed treats give them precisely what they are looking for."
To learn more about Halloween gift baskets, visit
http://www.mygiftbasketideas.com/holiday-halloween-gift-basket.html