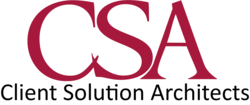 CSA and our industry partners are committed to providing our clients with proven production, installation and in-service support talent
Mechanicsburg, Pa. (PRWEB) May 08, 2012
Client Solution Architects LLC (CSA) announced today, the award of an indefinite-delivery/indefinite-quantity (IDIQ) contract, to provide electronic and communication services and solutions in support of mission capabilities for the Navy, Marine Corps, Coast Guard, Military Sealift Command, Army, and other entities, activities and agencies as assigned or designated by the SPAWAR Systems Center (SSC) Atlantic.
The scope of the overall PILLARS initiative covers the entire spectrum of non-inherently governmental services and solutions (equipment and services) associated with the full system lifecycle support including research, development, test, evaluation, production and fielding of systems. This specific PILLARS contract has a primary focus of providing mission capabilities within the Production, Installation, and In-Service Support Portfolio (PII). CSA will provide integration and testing of interoperable Command, Control, Communications, Computers, Combat Systems, Intelligence, Surveillance, Reconnaissance (C5ISR) capabilities that fulfill mission requirements for surface and sub-surface platforms.
"We are very excited to have an opportunity to help SPAWAR SSC Atlantic conduct its critical mission," said Scott Crawford, CSA's SPAWAR Account Manager. "CSA and our industry partners are committed to providing our clients with proven production, installation and in-service support talent that possesses the direct experience necessary to help accomplish their goals."
CSA will be competing with four other small business awardees for task orders under the terms and conditions of the awarded contracts. CSA is supported on this contract vehicle by the following companies; ARINC Engineering Services LLC; DCS Corporation; Exceptional Employees for Exceptional Results Inc. (E3R); Herdt Consulting Inc.; Innova Systems International; Kochur Trummer LLC; Life Cycle Engineering (LCE); Main Sail LLC; ManTech Systems Engineering Corp.; RAM Laboratories Inc.; Sentek Global Inc.; and Titanium Cobra Solutions LLC.
About CSA
CSA is a professional services firm providing strategic guidance and operational performance solutions to government and commercial clients. CSA helps clients achieve their goals by enhancing organizational performance and maximizing return on investments. The firm helps clients plan and execute processes associated with Project and Portfolio Management, Acquisition and Program Management, Contracts Management, Business and Financial Management, Logistics and Supply Chain Optimization, and Business Improvement and Analytics Services. The firm delivers services by combining deep process expertise with strong program management disciplines, analytics and a focus on performance results.