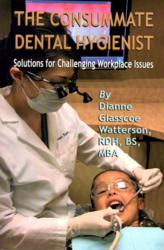 Frederick, MD (PRWEB) May 09, 2012
Professional Dental Management, Inc., a full-service practice management consulting firm located in Frederick, MD, announces the publication of a new book titled The Consummate Dental Hygienist – Solutions for Challenging Workplace Issues. The author, Dianne Glasscoe Watterson, RDH, MBA, is also President of Professional Dental Management.
In the book, Glasscoe Watterson addresses challenging interpersonal relations with patients, coworkers, and management. She also covers many relevant clinical issues, such as the importance of periodontal probing, periodontal maintenance, and legal issues for dental hygienists. There is also great information on assisted hygiene, a model that many doctors have found to be a more productive and efficient model of hygiene care. This book will be a valuable resource for hygienists in all stages of practice life, as well as dental hygiene students and dentists.
Cathy Alty, RDH, writer for RDH magazine, reviewed the book and offered these thoughts: "I have read The Consummate Dental Hygienist from cover to cover and think it is one of the best books on the practice of dental hygiene that I have ever read! Dianne's insight is a gift, and I love how she can break down complicated, emotional situations and gently explain and guide the reader through the minefields."
The Consummate Dental Hygienist can be ordered at http://www.professionaldentalmgmt.com for the introductory price of $24.95 (includes shipping) while supplies last.
Professional Dental Management, Inc., is dedicated to making good practices better through practical, onsite consulting services. For more information, call (301)874-5240 or email at dglasscoe(at)northstate(dot)net.