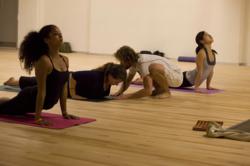 "Paul Broomfield has been teaching yoga at Invera for over two years." Says Ram Panda, President of Invera Inc. "I would highly recommend him to any company who is thinking of starting an in-house corporate program."
Montreal, Quebec (PRWEB) May 15, 2012
Paul Broomfield announced today the launch of a new yoga class catered to the workplace. With the intent to reinforce and support a positive and healthy shift in corporate culture -improving individual health, job perception, performance, team building, and inter-office dynamics, Paul brings an easy to do at the office yoga class.
Optimizing overall company performance is connected to retaining employees and less sick days. Paul aims to help companies do this by providing a one-hour yoga program held at the convenience of the company's schedule. His programs are personalized and catered to the office dynamic and needs. Every courses is unique but on average the cost of a class is 125$+tax.
"I suggest a late morning or early afternoon timeframe. The reasoning behind this is that the practice will rejuvenate and revitalize the day. Much like recess would in elementary school, employees come back to work more focused and motivated", says Paul Broomfield, Corporate Yoga Instructor.
Yoga is a cost effective way to de-stress, improve health and change employee perception. The focus on breathing and physical postures, stimulates the mind and brings elasticity and youth back into joints, muscles and vital organs. An individual working from a place of calm and focused motivation is proven to be more efficient and mindful to the integrity of the work at hand.
"Paul Broomfield has been teaching yoga at Invera for over two years, says Ram Panda, President of Invera Inc. At first we only offered one yoga class per week for barely half a dozen employees. Soon it caught on, and now we organize classes every day of the week, with full attendance. Paul is very much liked by everyone, and is a highly qualified teacher. He has a great understanding of not only yoga, but also the symbiotic connections between yoga, the body and mind. I would highly recommend him to any company who is thinking of starting an in-house corporate program."
"Paul's personal practice and integrity are felt throughout his classes, says Scott Simons President and Founder of Organik Santé Corporative. "He inspires discipline and enables students to go deeper into their practice and their journey of self-discovery. His presence instills confidence in his students."
ABOUT Paul Broomfield
Paul Broomfield has been instructing yoga since 2004. Established in Montreal, Canada, Paul is devoted to the practice and lifestyle of health, wellness, and self-advancement. Paul teaches yoga to a variety of companies in the Montreal area, specializing in corporate yoga, private and small group luxury courses. Paul's yoga classes guarantee a high level of quality and knowledgeable instruction. For more information visit: http://www.paulbroomfield.com