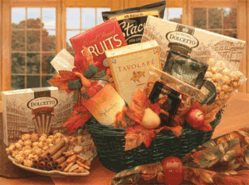 It seems like we really tapped into our customers' minds
San Francisco, CA (PRWEB) May 17, 2012
MyGiftBasketIdeas.com has been overwhelmed with early order requests for its Thanksgiving gift baskets, and today announces that it will continue to provide 'early bird' availability of customers who want to order way ahead of the holiday from http://www.mygiftbasketideas.com/holiday-thanksgiving-gift-basket.html
A company spokesperson from My Gift Basket Ideas, Inc. expressed satisfaction with the uptake to the trial and explained the decision to continue.
"It seems like we really tapped into customers' minds when we made available Thanksgiving and Halloween gift baskets ahead of schedule. Since making the first announcement, our website has been a hive of activity as shoppers shrewdly look for baskets available at discounted rates off-season. This shows us that early availability of holiday lines is something that customers are not only receptive to, but thankful for!"
When asked if there were any immediate plans to extend early availability to other holiday-themed gift baskets, the spokesperson gave the company's current position.
"We would definitely consider doing this. Shoppers are encouraged to keep their positive comments and suggestions coming our way, as we are always looking increase customer satisfaction by giving them the products they want, when they want them the most. We will be guided by customer demand; if you want something, please let us know and we will do our best to give it to you with the best possible savings attached."
Louise Wilson, a customer of MyGiftBasketIdeas.com from Omaha, NE, spoke of her relief at the continuance of the early availability drive.
"I haven't yet been organized enough to order my basked on their page, http://www.mygiftbasketideas.com/holiday-thanksgiving-gift-basket.html, but I definitely plan to soon, so it's good news for people like me to not get stressed out by missing out on the early deals."
The full line of goods available at the retailer can be found at http://www.mygiftbasketideas.com/
###