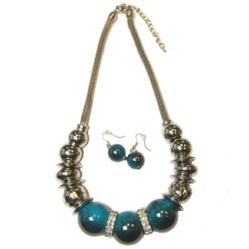 Customers can enjoy the variety of a department store jewelry counter coupled with the convenience of online shopping
Cheektowaga, NY (PRWEB) May 09, 2012
Christmas Central, an online retailer best known for its extensive stock of Christmas décor and home furnishings, continues its journey into the world of year-round merchandise with the addition of December Diamonds jewelry. The line of affordable fashion jewelry includes earrings, necklaces, cuff and coil bracelets, and sets of coordinating pieces. Many of the items feature the simulated gem stones and crystals popular in current jewelry designs.
"Our new jewelry selections represent both classic and contemporary styles," said Nathan Gordon, Christmas Central CIO. "They round out our jewelry category well. Customers can enjoy the variety of a department store jewelry counter coupled with the convenience of online shopping."
Christmas Central's December Diamonds collection includes goldtone and silvertone earrings and necklaces, a matching faux turquoise bracelet and earrings, and chunky hinged cuff bracelets. The collection's coil bracelets, which expand to fit nearly any size wrist, contain complementary combinations of metal, crystals, and beadwork. Several beach-inspired pieces, featuring abalone or mother-of-pearl shells, starfish charms, or a sand dollar motif, are also offered in time for summer and vacation wear.
In addition to the new line, Christmas Central continues to list holiday and religious jewelry. Many of its inspirational pins and necklaces are sold in multipacks, making them ideal for resale, or as gifts for groups.
About ChristmasCentral.com
The word is out: Christmas Central isn't just for Christmas anymore! Not to worry though—our online catalog still lists thousands of artificial trees and wreaths, in all sizes and colors. And, we continue to stock a rainbow of LED and incandescent lights, plus almost any type of Christmas ornament or decoration imaginable. But now, along with our holiday products, we've packed Christmas Central's virtual shelves with elegant home decor, patio and lawn accessories, gourmet and specialty foods, and gifts for every occasion. Customers can rely on Christmas Central for all year-round decorating and gift-giving needs. From tree stands to cake stands, patio cushions to pork roasts, our extensive inventory of quality merchandise offers a convenient one-stop shopping experience. Any time "spring, summer, fall or winter" is Christmas Central time!
ChristmasCentral.com is a division of Gordon Companies, Inc., a family owned and operated business founded in 1977. The company has operated its Cheektowaga, New York flagship store, Dave's Christmas Wonderland, for 35 years, and is now in its second generation. Gordon Companies, Inc. currently offers over 31,000 unique products through its web stores: DivaatHome.com, ChristmasCentral.com, BuffaloGourmetMarket.com, and PatioandHomeDecor.com. Inc. magazine named it the Fastest-Growing Company in Western New York, and lists it in the Top 5000 Fastest-Growing Companies in America. .
For more information, or to schedule an interview with Nathan Gordon, please call Brandon Datwyler at (716)558-2847, or email to Brandon(at)Christmas Central(dot)com.