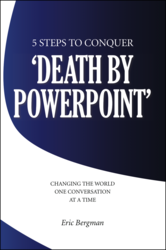 "If there's no evidence that slide-driven presentations are even remotely effective, why are 30 million still delivered every day?"
(PRWEB) May 08, 2012
For everyone who has ever endured the boredom of a presenter who is a slave to their slide-driven presentation – a malady known around the world as 'Death by PowerPoint' – help is at hand.
With today's book launch of Five Steps to Conquer 'Death by PowerPoint', author Eric Bergman is the first to give both presenters and audiences tools that offer a fresh new way of looking at presentations.
"If there's no evidence that PowerPoint, Prezi or Keynote type presentations are even remotely effective, why are 30 million slide-driven presentations still delivered every day?" Bergman asks. "Most presenters are addicted to slideware, and audiences in meeting rooms, boardrooms, training rooms, classrooms and conference halls are suffering for it."
Bergman doesn't make this statement lightly. The book's foreword is written by John Sweller, Ph.D., a world-renowned expert on how the mind processes information to learn. Professor Sweller's research has been cited more than 6,000 times in published journals, articles and books, and he has graduated more than 40 doctoral students.
"Today we use technology such as PowerPoint because we can, not because it results in improvements," Professor Sweller writes. "The evidence is overwhelming that the way in which we currently organize presentations is ineffective and inappropriate."
The first chapter of Five Steps to Conquer 'Death by PowerPoint' shines a critical light on 10 basic assumptions for using slides during presentations, plus the most basic assumption that they're necessary or desirable in the first place.
With the issues clearly outlined, the remainder of the book provides actionable solutions for presenters and audiences alike. For presenters, the book outlines a strategic, science-based solution for creating effective presentations that engage audiences and enhance communication.
THE FIVE STEP SOLUTION
The five steps every presenter should embrace:
1) Put The Audience First—by tailoring the discussion to the audience's specific needs.
2) Structure the Conversation—by using a proven framework to put ideas into context.
3) Minimize Visual Aids—by questioning the value of each and every slide used.
4) Convey Your Message & Personality—by creating a relaxed two-way conversational exchange.
5) Answer Questions Throughout—by keeping answers short to enhance interaction and interest.
For audiences, the final chapter provides insight into "Overcoming the Addiction" and introduces the audience manifesto. This free, downloadable poster is a tool by which audiences everywhere can provide speakers with a mandate that will help both the speaker and audience better communicate with each other.
ENDORSED BY BUSINESS & ACADEMIA
The book is already receiving positive reviews from business leaders such as Glenn Ives, Chair of Deloitte & Touche LLP. "While reading the book, I was riveted by the content," he says. "My mind was flying through my own presentations; the things I could have improved, how the audience must have felt, how this information could be applied to our board of director meetings. Eric provides straight-forward advice to presenting ideas effectively. This book is well worth reading."
Professor Sweller agrees. "The various recommendations Bergman makes are based on strong research evidence he has brilliantly applied to the art of presenting information to a live audience," he writes. "Eric Bergman's techniques are a window to the future of this important human activity."
PRICING AND AVAILABILITY
Five Steps to Conquer 'Death by PowerPoint' can be purchased directly from Amazon. A free, practical workbook can be downloaded as a PDF. The 172-page soft-cover book costs US$29.95 plus applicable taxes. Volume pricing for organizations can be arranged by contacting the publisher to arrange a discount code, as is customized presentation training.
ABOUT THE AUTHOR
Early in his career, Eric Bergman often made more money assembling slides for the speeches he wrote than he did actually writing the speech. But he overdosed on overheads at a young age, and his beliefs began changing.
For more than 20 years, he has been teaching that the spoken word and the written word must be separate to be most effective, and that smart presenters must tap into this principle and others to enhance their success. As a world-renowned presentation expert, author and communications trainer, Bergman has been helping countless professionals from five continents become better communicators – from C-Suite executives to front-line supervisors.
Bergman is accredited by the International Association of Business Communicators (IABC) and the Canadian Public Relations Society (CPRS). He holds numerous awards in the communications industry and has received the prestigious Master Communicator designation, the highest honour that can be bestowed to an IABC member in Canada.
MEDIA CONTACTS:
Eric Bergman
Author
Tel: +1 (416) 410-3273
ericj (at) fivestepstoconquer (dot) com
Maia Doytcheva
Media Relations
Tel: +1 (416) 848-1885
maia (at) fivestepstoconquer (dot) com