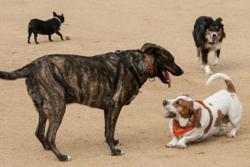 Body language and behavior of both dog and owner is critical...
Tucson, AZ (PRWEB) May 21, 2012
With spring in bloom and summer well on its way, Gerard Raneri, dog behavior specialist with Bark Busters Tucson, has released a guide helping dog owners safely use local dog parks. With dog aggression on the rise, concerned owners can help reduce the risk of fighting and aggressive encounters and ensure a safe, healthy environment for socializing your family dog.
"Unfortunately, not all encounters are positive as aggressive dogs can ruin the experience and endanger your pet," said Dog Behavioral Therapist Gerard Raneri.
There are a number of popular Tucson, AZ dog parks set aside for pet owners to interact and socialize their dogs and allow them to play with other furry members of the community.
There exist a number of potential hazards to visiting your community dog park, according to the trainer, and small puppies may be better off left at home. The trainer added, puppies having bad experiences at the dog park can get you off to a bad start with socializing. Puppies need to be socialized slowly and safely.
"We have a number of beautiful dog parks in Marana, Vail, Sahuarita, and Tucson proper. We want the best experience for our furry friends," said the Tucson dog trainer.
Dog owners are encouraged to start off slow with their dog, and unleash their dog as soon as the unleashed areas are reached so as to avoid a hostile situation.
"Body language and behavior of both dog and owner is critical in creating a defensive, aggressive, or calm and playful situation," added Raneri.
Dog fights are on the rise, according to the trainer, as canines are picking up on rising stresses and anxiety in their owners.
Visitors to the site can review the newly revealed information for free and are welcome to call to speak with the behavior specialist directly concerning individual behavior problems.
As a renowned authority in canine behavior visitors are encouraged to contact Mr. Raneri for help. According to the site, the natural training system can successfully train any breed, any age, any issue.
Contact
Gerard Raneri, Dog Behavioral Therapist & Master Trainer
(520) 440-8848
http://www.dogtrainingtucsonaz.com