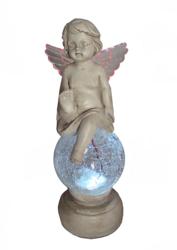 Our decorative solar-powered items are portable, energy-efficient, and environmentally safe
Cheektowaga, NY (PRWEB) May 14, 2012
Christmas Central, whose varied inventory already includes energy-efficient LED (light-emitting diode) lights, eco-friendly home and garden décor, and items constructed from recycled materials, announces the expansion of its solar-powered product menu. The augmented category now includes wind chimes; patio umbrellas; decorative lawn stakes; garden statues, figures, and trellises; and bird baths and feeders. All feature solar-driven lights.
Christmas Central's solar-powered products combine ornamentation with convenient, economical lighting. For most of the new items, eight hours of sun exposure typically results in an 8- to 10-hour illumination time. Many utilize LED bulbs, which can last up to 60,000 hours. Solar-powered path lights, yard stakes, and garden statuary, with their absence of electrical cords, can be placed in nearly any location which receives full daytime sun.
"Each year, we look for new green merchandise to offer our customers," said Nathan Gordon, Christmas Central CIO. "Our decorative solar-powered items are portable, energy-efficient, and environmentally safe."
Many of Christmas Central's solar-driven items feature an on/off switch, giving customers the additional option of an unlit decorative accent. When switched on, the lights automatically illuminate at dusk and turn off at dawn.
About ChristmasCentral.com
The word is out: Christmas Central isn't just for Christmas anymore! Not to worry though—our online catalog still lists thousands of artificial trees and wreaths, in all sizes and colors. And, we continue to stock a rainbow of LED and incandescent lights, plus almost any type of Christmas ornament or decoration imaginable. But now, along with our holiday products, we've packed Christmas Central's virtual shelves with elegant home decor, patio and lawn accessories, gourmet and specialty foods, and gifts for every occasion. Customers can rely on Christmas Central for all year-round decorating and gift-giving needs. From tree stands to cake stands, patio cushions to pork roasts, our extensive inventory of quality merchandise offers a convenient one-stop shopping experience. Any time "spring, summer, fall or winter" is Christmas Central time!
ChristmasCentral.com is a division of Gordon Companies, Inc., a family owned and operated business founded in 1977. The company has operated its Cheektowaga, New York flagship store, Dave's Christmas Wonderland, for 35 years, and is now in its second generation. Gordon Companies, Inc. currently offers over 31,000 unique products through its web stores: DivaatHome.com, ChristmasCentral.com, BuffaloGourmetMarket.com, and PatioandHomeDecor.com. Inc. magazine named it the Fastest-Growing Company in Western New York, and lists it in the Top 5000 Fastest-Growing Companies in America.