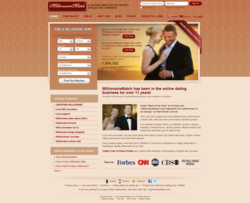 New York, LA, Houston, Chicago, Dallas, Vegas, Brooklyn, Atlanta, Beverly Hills, San Diego... if you're a high income earner looking for love, consider relocating to these wealthy single hot spots.
Toronto, ON (PRWEB) May 09, 2012
With over six million bonafide millionaires in the United States, you can be sure that among them are hundreds of thousands of affluent singles seeking partners who share champagne and caviar tastes and a work hard, play harder lifestyle.
Responsible for the union of thousands of millionaire singles, online dating website, MillionaireMatch.com, suggests it may just be a little easier for wealthy singles to find love in these cities based on their March 2012 membership data:
Top MillionaireMatch.com Cities:
New York City
Los Angeles
Houston
Chicago
Dallas
Las Vegas
Brooklyn
Atlanta
Beverly Hills
San Diego
These results are not surprising since MillionaireMatch.com counts many succesful entrepreneurs, top executives, celebrities and professional sports stars among their clientele and these 10 major cities are the places they typically call home.
About MillionaireMatch.com
Established in 2000, MillionaireMatch.com was first to serve the millionaire singles niche exclusively though an online dating community. Its membership base includes more than 1.7 million members looking for love, many of them with verified millionaire status through confidential and voluntary income disclosure. The website is highly ranked among the top online dating sites internationally and has been featured as best in web on Forbes.com. Millionaire singles can create a free profile on MillionaireMatch.com though many choose to purchase paid monthly membership to enjoy advanced features designed to find suitable partners quickly.