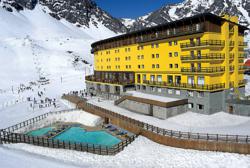 Portillo, Chile (PRWEB) May 08, 2012
Winter Season in the Southern Hemisphere is weeks away, and already Ski Portillo in Chile is blanketed in white powder, creating anticipation and excitement for skiers across North America who suffered a disappointing winter this year. Ski Portillo, South America's most iconic resort, opens its doors June 16, 2012.
Ski Portillo has set the standard for classic ski experiences with more than 60 years of history and family-owned hospitality. This tradition continues today, offering skiers a rare taste of a world long forgotten, rich in culture, community spirit and awe-inspiring beauty.
Located approximately two hours from Santiago and accessible via direct flights from numerous North American cities, Ski Portillo is the dream South American ski destination. Its incomparable setting – on the shores of the Lake of the Incas and surrounded by 19,000-foot Andean peaks – delivers an unsurpassed experience with world-class skiing and snowboarding and excellent service thanks to a one-to-one guest-to-employee ratio.
Ski Portillo is an all-inclusive resort with ski weeks that include the following:

seven nights of lodging
four meals each day (breakfast, lunch, tea and dinner)
lift tickets
access to all resort amenities (see below)
The resort accommodates a maximum of 450 guests a week, eliminating crowds and lift lines, and affording guests the sensation of skiing at their own, private Andean resort.
Ski week prices for the 2012 season begin at US$1,790 at Hotel Portillo; US$1,190 at the Octagon Lodge, located steps from hotel; or US$800 at the hostel-style Inca Lodge. For reservations, call 1.800.829.5325 or email reservas@skiportillo.com. More information on Ski Portillo is available at http://www.SkiPortillo.com.
Ski Portillo's 14 lifts, including the famed Va et Vient lifts found only at Ski Portillo, access terrain catering to skiers of all abilities. Ski Portillo's ski and snowboard school features the world's most qualified instructors; nearly 100 percent instruct year-round, teaching at the finest resorts in the Northern Hemisphere when they are not in Portillo. While less-experienced guests will find wide-open and uncrowded beginner slopes, Portillo is famed for its steeps, and the area is surrounded by easily accessed backcountry terrain. Ski Portillo's instructors also provide expert off-piste guiding for experienced skiers.
Ski Portillo's all-inclusive, complimentary offerings include use of the pool and hot tubs – perched idyllically over the Lake of the Incas — the fitness center, gymnasium, aerobics and yoga classes, cinema, game room, children's activities, the daycare center (complimentary for children three to seven years old), the disco and piano bar, ski and boot check and timed race courses.
SPECIAL WEEKS
Ski Portillo has become renowned for its warm hospitality, guest programs and themed weeks with value-added activities and experiences offered at no additional cost to guests. The most popular, the annual Chilean Wine Week, is now in its 11th year (Aug. 4 – 11) and features a different Chilean vineyard and winemaker each day offering tasting sessions, tasting dinners and events. Wine Fest (Aug. 25 – Sept. 4), offered at no additional charge, brings Chile's finest winemakers directly to guests, offering personally crafted tastings every afternoon as part of après-ski activities in the comfort of Hotel Portillo.
Ski Portillo's friends and fans share the ski-week secret during Friends Week (Aug. 18 – 25), a week designed for fun and bonding with good people, excellent après-ski parties, fantastic skiing and many hours logged at Tio Bob's mountain restaurant. The week's events will include cocktail parties, a black and white party, afternoon events at Tio Bob's, adventure and ski movie showings, wine tastings, a visiting master chef, and a guest ski race called the Bob Purcell Cup. This is a great week for groups of men or women, singles and couples, and Ski Portillo extends special pricing to female guests this week.
New this winter, Ski Portillo will offer the Insider's Week (Aug. 25 – Sept. 2), combining small group instruction with the finest pros from Portillo's famed ski school as well as daily wine tastings.
In addition, renowned athletes host special weeks in Ski Portillo, including extreme skiing champion Chris Davenport's annual 9th Annual Ski with the Superstars Week (Aug. 11 – 18), where participants learn from the world's most decorated extreme skiers on Portillo's endless expert terrain. Famed skier Kim Reichhelm will host Guided Adventure Skiing for Families July 28 – Aug. 4 and Guided Adventure Skiing for Adults Aug. 4 – 11. Aspen-based John Clendenin hosts his 12th Annual Clendenin Method Camp from Sept. 8 – 18. The North American Ski Training Center (NASTC) offers a Summer Skiing Camp as well as a Kids' Race and Free Skiing Camp Aug. 18 – 25.
Returning in 2012, Ski Portillo offers Children Ski Free Weeks, where parents may bring a child between the ages of four and 12 and receive a free week for their children. The dates for the Children Ski Free Weeks are June 16 – 23, June 23 – 30, Sept. 1 – 8, Sept. 8 – 15, Sept. 15 – 22 and Sept 22 – 29. Offer is valid for a maximum of one child per family. From Sept. 25 – Oct. 2, Ski Portillo offers the Two Children Ski Free Week, where families are able to bring two children at no additional cost.
Designed for families visiting Ski Portillo during school vacations, Family Week includes special activities to keep the whole clan entertained, including a children's fashion show, crafts, snow sculptures and more. Ski Portillo is always an ideal family destination, but during Family Week, kids and parents can partake in activities together, strengthening family ties and creating lasting memories in the spectacular mountain setting. Offered at no extra cost, Family Weeks are July 7 – 14, July 14 – 21, July 21 – 28 and July 28 – Aug 4.
For reservations call toll free 1.800.829.5325, or email reservas@skiportillo.com. More information on Ski Portillo is available at http://www.SkiPortillo.com. Follow Ski Portillo on Twitter (@SkiPortillo) or Facebook.
Ski Portillo also owns and operates Tierra Atacama Hotel & Spa, located in the Atacama Desert in northern Chile, and the new Tierra Patagonia Hotel & Spa, which opened in December 2011 in Chilean Patagonia.
Media Contact:
Maureen Poschman: maureen@promocommunications.com
Sarah-Jane Johnson sarahjane@promocommunciations.com
Damien Williamson damien@promocommunications.com
+1.970.925.8480
###