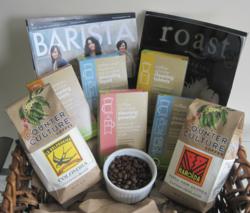 Moms are 24/7 multi-taskers and quality coffee, brewed in a pristine machine, is a simple luxury that helps keep us on the go.
Elmsford, NY (PRWEB) May 07, 2012
Urnex Brands, the makers of Full Circle, the only eco-friendly portfolio of coffee and espresso cleaning products, launches its Facebook "Perk Up Your Mom" giveaway, which offers the chance to pamper your mom, as well as her morning brew.
Now through midnight on Saturday, May 12, any Facebook user who posts "My mom loves coffee" on http://www.facebook.com/urnexbrands will have the chance to win a luxurious, coffee aficionado's gift basket featuring:
1. Two 12 oz bags of Counter Culture Coffee gourmet beans as recommended by 2012 United States Barista Champion Katie Carguilo
2. A one-year subscription to two coffee industry leading magazines – Barista Magazine and Roast Magazine
3. The Full Circle portfolio of five eco-friendly home coffee and espresso machine cleaning products.
Two winners will be chosen at random and notified via Facebook on Mother's Day – Sunday, May 13, 2012.
"Warm, strong and sweet are terms that we often associate with our moms, but they can also certainly apply to our coffee," said Debbie Rebell, Director of Marketing for Urnex and the mother of two children. "Moms are 24/7 multi-taskers and quality coffee, brewed in a pristine machine, is a simple luxury that helps keep us on the go."
On Friday, May 11, be sure to visit the Urnex Facebook page to meet some of the talented moms that keep Urnex brands buzzing.
Full Circle provides a solution for better tasting coffee, which results from having a clean machine. Full Circle's complete line of environmentally-friendly, odorless cleaning products are formulated from naturally occurring, sustainable and renewable ingredients. These products are available on-line and in-store at Williams-Sonoma, as well as retail and e-commerce locations nationwide.
The line of environmentally conscious Full Circle products was developed by Urnex Brands, respected cleaning experts in the commercial specialty coffee market since 1936. To learn more about Full Circle coffee and espresso equipment-cleaning products, visit facebook.com/urnexbrands or email info(at)urnex(dot)com.
About Full Circle™
Urnex Brands, the creator of Full Circle cleaning products, has been the authority in coffee equipment cleaning since 1936. The company's full portfolio of coffee equipment cleaners is the result of years of innovation in creating products that meet the highest standards for cleaning power while maintaining a commitment to transparency and the use of environmentally safe ingredients.