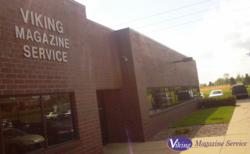 VMS strives to provide jobs and promote more local business within the Burnsville area.
Burnsville, MN (PRWEB) May 08, 2012
Viking Magazine Service continues to expand its business in Burnsville, Minnesota. Located off of highway 13 just east of 35W, Viking Magazine Service prides itself on being a Burnsville business.
Being a part of this community is important to founder Dave Moulder, who is currently employing around 160 people in the VMS Burnsville location. Dave says, "Our motto has always been, doing the right thing when no one is looking. Even though being a call center seems to automatically give you a bad rap, at our company we always try and put people first, and that goes for our employees and our customers."
Dave Moulder moved to Burnsville in 1984, working in an office across the street from the TCF building on the corner of Nicollet and Burnsville Parkway. The TCF bank, which was built in 1974, today is being torn down to make way for more business in Burnsville. The landmark building where Dave opened his first checking account is now gone. To Dave this is a true testament to the growth in Burnsville, but he is sad to see it go.
With Viking Magazine Service being one of the larger businesses in Burnsville, Dave Moulder feels attached to this community. VMS strives to provide jobs and promote more local business within the Burnsville area. An area which Dave has grown attached to for the last 28 years.
In its 18 years of existence, Viking Magazine Service has earned an excellent reputation with both the publishers and consumers for reliability, dependability, and integrity. Their mission is to provide consumers and their families with the highest quality magazines at the most affordable price, while assisting the publishers in maximizing their ability to reach our shared target consumer.