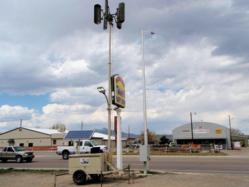 "When cost-effective energy is required, it will now be available to our customers in a sustainable fashion, anytime or anywhere the need arises."
Cody, Wyoming (PRWEB) May 08, 2012
For Mario Navarrete, executive vice president of field operations for Apperisity, Inc., the tower in his parking lot is the culmination of his own love of engineering, and the desire to build a sustainable and a renewable energy solution that could be used "on demand." Thus, Apperisity One was born and with the company's partner, New Wind, LLC, a world-wide provider of small-wind vertical–axis wind turbines (VAWTs) and other renewable energy products out of Nashville, Tenn. The two companies have joined forces and technologies to create a completely mobile product.
"Our team has developed the right combination and components to make the Emergency Light and Power on Demand (ELPoD), a portable alternative energy power source," Navarrete said. "The current prototype is made from a recycled chassis. The generator is a New Wind turbine and solar panel with a current output of 450 watts per hour of energy. The lighting system is a 60 watt LED that produces more than 5,000 lumens of brilliant white light. This mobile power plant can be used by any organization that has a power-on-demand need."
The use of diesel, gasoline, oil or antifreeze is non-existent, Navarrete said, which makes this unit environmentally safe and easy to use and maintain. "The simplicity of design makes this mobile wind and solar tower cost effective and an affordable alternative within the wind and solar power industry. Our goal is to develop and manufacture the product here in Cody, Wyoming, which will create new jobs and help to stimulate our local economy with a safe and renewable energy source that is eco-friendly and non-dependent upon fossil fuel products."
Apperisity One is a hybrid solar and wind lighting solution that can be installed on any mobile light tower with a few simple modifications, instead of the standard inefficient and high-maintenance construction lights, Navarrete said. "The unit operates off a two-fold micro grid with a battery backup, so on those days when it is storming the wind turbine generates energy and on sunny days the solar panel kicks in to Emergency Light and Power on Demand (ELPoD) create energy. It is hooked up to a console that is programmed to turn the unit on when lighting is necessary."
All of the sustainable energy components, he said, will be supplied through the partnership with New Wind, including the turbine, solar panel, and batteries.
"Apperisity One is an efficient and affordable solution for security lighting, highway maintenance, construction projects, emergency response needs in areas that are difficult to access, as well as fairs, festivals, and other temporary events. You just hook the unit to the back of any vehicle that is set up to tow and transport it to the required site for easy set-up and immediate use," he said. "The unit can be erected and turned on in just a matter of minutes. It does not require a power grid for use and is extremely cost efficient to maintain. The mobile turbine is also cost efficient and affordable to use with no fuel costs or high maintenance fees to worry about. The Apperisity One is practically maintenance free."
"When cost-effective energy is required, it will now be available to our customers in a sustainable fashion, anytime or anywhere the need arises," Navarrete said.
"Sustainable energy is one of today's main stream interests where the technology has reached a point where it is affordable and practical. Renewable energy, particularly small wind systems, has been very costly in the past. With our product, that cost has been greatly decreased making it an affordable option for those requiring sustainable energy needs now and in the future. Our motto is: 'As long as there is wind and sun, we will have good 'NEWS' which is short for Natural Energy With Sustainability for our customers."
It has taken several years, many prototypes, good old-fashioned ingenuity, and trial and error to get the Apperisity One where it is today, he said, adding prototypes were made out of recycled material. "We found the only turbine that would work was one of New Wind's VAWTs," he said. "After working on it, we now have it down to the production stage and are ready to take orders. We can also build them to customer specifications."
Stuart Wiston, president of New Wind, LLC, said he was excited to be on the ground floor of Apperisity One. "It is true that necessity is the mother of invention. Mario saw a need and tackled it. We have watched the process and we are cheering him on. This is how the present and future energy needs will be fulfilled – by someone taking what they know and putting it to use. The fact our turbine was the right piece of the wind puzzle makes us all excited around here. We get his photos and videos of the progress – him in Wyoming and us here in Nashville – and watched it continually be improved upon to what it is now. We are so proud to be a part of the solution, and especially with someone as positive, creative, and clever as Mario."
The Apperisity is continually evolving. Navarrete said he is working on making the system, "self-approving. We are putting it on a hydraulic pole with limit switches so the turbine will raise or be lowered to where conditions are perfect for maximum output without hurting the turbine." He said the ability to self-lower during harsh weather is also a built-in safety feature.
For more information, about Apperisity One, contact Mario Navarrete at (307) 578-8831. For more information on New Wind, LLC and its line of products, contact (615) 730-5492, visit them on the web at http://www.newwind.us, or via email at info(at)newwind(dot)us.