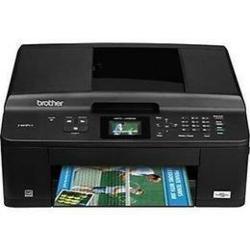 All of Cheapism's top choices are wireless multifunction printers under $100
New York, NY (PRWEB) May 08, 2012
A new buying guide by Cheapism.com, a review site dedicated to finding quality low-cost products, identifies the best cheap multifunction printers. The top picks under $100 are the Epson Stylus NX430, for its simplicity and print quality, and the Brother MFC-J430w, for its speed, text printing, and features that include faxing and automatic document feed. Second-round picks are the Canon Pixma MG5320, with two large-capacity paper trays, and the HP PhotoSmart 5510 e-All-in-One.
Compact inkjet printers are sought after because they perform several tasks, although multifunction printer reviews indicate that print quality is the defining measure. A device that meets the mark produces sharp, dark text that's easy to read, regardless of font size, and bright, crisp photos with accurate color. All the top picks satisfy these requirements. Home users and experts say the Epson Stylus NX430 shines in the realms of text, color graphics, and photo printouts, while the Brother MFC-J430w offers speedy performance, handles text particularly well, and uses ink efficiently. The Canon Pixma MG5320 produces crisp text and excels at photo printing, although it's a bit slow. Text output from the HP PhotoSmart 5510 e-All-in-One is sharp, and photo prints have rich colors, but occasional paper jams slightly mar this printer's performance.
Three of the picks are flatbed printers, which means you open the lid to lay down an item and run one copy or scan at a time. The Brother MFC-J430w is a sheet-fed printer that copies or scans multiple items automatically. Most budget multifunction printers hold up to 100 sheets of paper; the Canon Pixma MG5320 has two trays with capacity for 150 sheets each. Cheapism's top choices are wireless multifunction printers, and users say they are easy to connect to wireless home networks. Models that had trouble maintaining a wireless connection with a base computer did not earn spots on the list.
About Cheapism.com
Called by The New York Times "a Consumer Reports for the cheap," Cheapism.com is a review site that serves consumers on a budget who want the best value for their money. Cheapism is the only review site that focuses exclusively on low-price products, a part of the market often overlooked by experts.
Contact
Max Levitte
212-721-4530
max(at)cheapism(dot)com
# # #