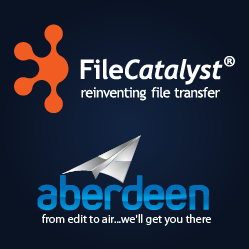 FileCatalyst provided exactly the products and tools we needed to build Aberfast, our digital video file delivery service
Ottawa, ON (PRWEB) May 08, 2012
Unlimi-Tech Software, the pioneer in accelerated file transfers, is pleased to announce the selection of FileCatalyst by Aberdeen Broadcast Services. Aberdeen uses FileCatalyst technology to power Aberfast, their digital video file delivery service.
Aberdeen has long promoted "tapeless" media exchange, which results in no generation loss, no shipping costs, and fast turnaround. Aberfast is the latest evolution in Aberdeen's tapeless approach. The product needed to handle files as large as 50 GB, with the fastest possible delivery and rock-solid reliability. It needed to be simple to deploy, easy to use, as well as provide confirmation of transactions. Aberdeen knew right away that FTP was not going to be enough, and began to evaluate other options. FileCatalyst stood apart.
"FileCatalyst provided exactly the products and tools we needed to build Aberfast, our digital video file delivery service," says Matthew Cook, President of Aberdeen Broadcast Services. "Their support and responsiveness is absolutely the best."
Built on FileCatalyst Webmail, the system requires very little from Aberdeen's partners and clients to get up and running. The HotFolder application provides scheduling and automation of file transfers, with notifications sent upon completion. When automation is not required, users may log into the web-based portal, delivering files at maximum speed using nothing more than a web browser.
"The modular tools we provide gave Aberdeen Broadcast Services the ability to use FileCatalyst Webmail as a starting point," says John Tkaczewski, President of Unlimi-Tech Software, "but they have created something unique around it. Flexibility and integration options are core strengths for FileCatalyst, and we love what Aberdeen has done."
This modularity extends beyond file transfer and notification. The new FileCatalyst Central application provides Aberdeen with a web-based tool that provides a complete overview of every node connected to the system, as well as the ability to manage and configure HotFolder and Server nodes.
"Managing endpoints works best when you can reach any of them through one consolidated view," says Matthew Cook, "and that's what FileCatalyst Central does. Implementing it for Aberfast was an easy decision for us."
For more information about FileCatalyst, visit us at Interop Las Vegas, booth 1559, or on the web at filecatalyst.com
Learn more about Aberdeen Broadcast Services at abercap.com
About Unlimi-Tech
Located in Ottawa, Canada, Unlimi-Tech Software is the creator of FileCatalyst, the world's leading file transfer solution. Founded in 2000, the company has more than a thousand commercial and government clients.
FileCatalyst, created by Unlimi-Tech Software, is a software platform designed to accelerate and manage file transfers. FileCatalyst is immune to the effects that latency and packet loss have on traditional file transfer methods like FTP, HTTP or CIFS. Global organizations use FileCatalyst to solve issues related to file transfer, including content distribution, file sharing and offsite backups.