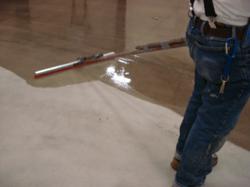 BASF's 'intelligent' high-performance solutions are the answer to future design challenges.
Florham Park, NJ (PRWEB) May 07, 2012
BASF, the world's leading supplier of chemical innovations for the construction industry, will showcase advances in energy-efficient, durable and sustainable high-performance construction materials during the American Institute of Architects (AIA) National Convention and Design Exposition at booth #803 from May 17-19, at the Walter E. Washington Convention Center in Washington D.C.
"BASF's 'intelligent' high-performance solutions are the answer to future design challenges," said Beate Ehle, Executive Vice President, BASF Corporation and President, Market and Business Development for BASF in North America. "Used for generations in landmarks such as the Hoover Dam, the Statue of Liberty, the Empire State Building and most recently One World Trade Center, BASF solutions enable creation of smarter, more efficient buildings, and save time, money and precious resources."
Featured innovations will include:
Basotect® G+
A new grade of lightweight, sound-absorbing, fiber-free melamine foam, Basotect G+ is used in room acoustic applications. Basotect G+ meets the strict emission requirements of the California Section 01350, which fulfills indoor air emissions for California Collaborative for High Performing Schools (CHPS) and several LEED® criteria, with 35 percent coverage of the ceiling.
Carlisle's Sure-White™ EPDM FleeceBACK™ membrane, FAST™ Adhesive and SPF-245 with BASF spray foam
This unique roofing system delivers superior performance for wind-uplift resistance and waterproofing, and maximizes energy efficiency by eliminating thermal bridging of insulation joints and fasteners.
Consistent Concrete Value Tool (CCVT)
Developed to model the dollar savings potential a concrete producer can achieve with more consistent concrete, the CCVT uses producer inputs and market data to help concrete producers engineer the most cost-efficient mix.
Pozzolith® 700N
A water-reducing admixture, Pozzolith® 700N is specially formulated to reduce concrete setting time, helping concrete producers promote sustainable mixtures that offer the characteristics that engineers expect.
Quick Corner™ 6
This one-piece corner insert made from BASF Wall Systems' sheathing fabric is designed to provide seamless corner reinforcement and moisture protection for windows, a critical area of the building envelope.
Chroma Finish
A high-chroma, fade-resistant finish for stucco and exterior insulation finishing systems (EIFS), Chroma Finish is designed to produce strong, intense colors typical of those used in corporate identity campaigns or on any job where vivid color with increased color retention is desired.
MASTERTOP® VB 240 FS
A moisture-mitigation solution for use with resinous flooring systems, MASTERTOP VB 240 FS is a high-performance epoxy coating that bonds aggressively to concrete for long-lasting floor installations.
Tinuvin® 1600
Tinuvin 1600 is an ultraviolet (UV) light absorber that extends the durability and life expectancy of architectural and automotive glazing applications, window films, displays, protective films, photovoltaics and other products exposed to intense UV light.
BASF is a leader in the construction industry. With more than 600 products serving 75 construction product categories, they offer the broadest portfolio of products used directly on construction sites, or integrated into other products, to improve the performance of construction projects.
For more information on BASF's commitment to energy-efficient, durable and sustainable high-performance construction or to learn more about any of the products featured above, please visit http://www.basf.us/construction.
To schedule a booth visit during AIA, please contact Mary MacLeod-Jones at 207-222-2774 or mary(at)holdfastcomm(dot)com.
BASF – The Chemical Company
BASF Corporation, headquartered in Florham Park, New Jersey, is the North American affiliate of BASF SE, Ludwigshafen, Germany. BASF has more than 16,000 employees in North America, and had sales of $19.9 billion in 2011. For more information about BASF's North American operations, visit http://www.basf.us.
BASF is the world's leading chemical company: The Chemical Company. Its portfolio ranges from chemicals, plastics, performance products and crop protection products to oil and gas. We combine economic success, social responsibility and environmental protection. Through science and innovation we enable our customers in almost all industries to meet the current and future needs of society. Our products and system solutions contribute to conserving resources, ensuring healthy food and nutrition and helping to improve the quality of life. We have summed up this contribution in our corporate purpose: We create chemistry for a sustainable future. BASF posted sales of about €73.5 billion in 2011 and had more than 111,000 employees as of the end of the year. Further information on BASF is available on the Internet at http://www.basf.com.
Basotect®, Pozzolith®, MASTERTOP® and Tinuvin® are registered trademarks of BASF.
Carlisle™, Sure-White™, FleeceBACK™ and FAST™ are trademarks of Carlisle.
Quick Corner™ is a trademark of BASF.
LEED® is a registered trademark of the United States Green Building Council (USGBC).