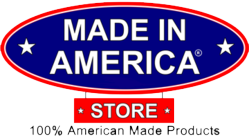 Elma, New York (PRWEB) May 08, 2012
The Made In America Store is known for selling 100% American made products, from groceries, clothes and much more. Recently the Made In America Store was mentioned in Alan Uke's newest book 'Buying America Back: A Real-Deal Blueprint For Restoring American Prosperity', as an example of how consumers need to change their buying patterns.
Alan Uke's book, Buying America Back, talks about the trade gap between China and the United States of American. Alan's book also addresses that our manufacturing facilities are all over seas in places like Honduras and Korea and puts the blame on the idea of globalization as the cause to our manufacturing problems.
Buying Back America shows Alan's idea on how to reverse the damage that's been done to the economy and how to bring us back from the downward economic trend. Alan's book outlines his plan to turn the tide by promoting the American industry, consumers can achieve this by helping American consumers understand how their purchases effect our economy. Alan explains to his readers that making educated, targeted buying choices can restore the country's economy, even without government intervention.
The Federal Trade Commission (FTC) declares that for any product to have the 'Made In America' label, only 50% of its components needs to actually be USA made. Mark Andol, Made In America Store Owner, takes the 'Made In America' label to the next level. Alan Uke makes a point in his book to let readers know that Mark is changing the way people see and understand 'Made In America'. Every component of every product on the shelves at the Made In America Store are 100% American made.
Consumers interested in buying 100% American made products can visit http://www.MadeInAmericaStore.com or call 1-716-652-4872.
Alan Uke has a very colorful history with business ownership and involvement with the community. He started his first business out of his dorm room in San Diego, California. At this time, he quickly learned how important it was to balance budgets, manage people, cutting excess waste and creating jobs. The job he started, selling scuba diving gear, stills exists today as 'Underwater Kinetics'.
Alan later on went on to work more with politics and government by becoming a member of the World Presidents' Association where he served on numerous top-level delegations in Washington. Alan represented the voice of American business to our nation's leadership. Alan's purpose was to strengthen the U.S. economy and reduce reliance on foreign countries for resources.
Alan and Mark share the same vision of buying American made products to support the U.S. economy. Alan hopes to change some legislation in the future so that manufacturing companies will have to specify how much of each product is American made.
The Made In America Store is located at 900 Maple Road in Elma, New York and is committed to selling 100% American manufactured products. You can visit http://www.MadeInAmericaStore.com for more information or shop our catalog of over 290 vendors that are devoted to producing USA made products. All US military personnel both active duty and retired receive a discount every day. Consumers can also keep up to date news articles, events, photos and contests with Facebook, Twitter, Google+, Pinterest and Tumblr!