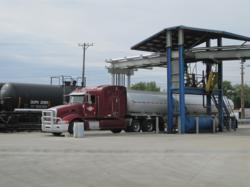 "The steady growth of Colorado Petroleum's products, coupled with years of profitability as a corporation, has positioned us to make this move at a very strategic time" ~Clark Thompson, President
Denver, CO (PRWEB) May 09, 2012
Colorado Petroleum, celebrating 85 years of motor oil lubricant manufacturing and distribution, announced today that it has expanded its facilities to a new worldwide headquarters location in Denver, Colorado. The new facility includes 185,000 square feet of warehouse space, 30,000 gallon blending tanks, four bottling lines, Quality Control laboratory, tank farm that holds in excess of 1,000,000 gallons as well a concrete based tank truck and rail car receiving and shipping depot. The new building's size has more than tripled the square footage of our previous buildings where they have resided since 1960.
The new headquarters is a 230,000 square-foot building. It will house members from every Colorado Petroleum department including the executive team, sales, finance, manufacturing, marketing, distribution and support. The financial details of the agreement are confidential and not available for disclosure.
"The steady growth of Colorado Petroleum's products, coupled with years of profitability as a corporation, has positioned us to make this move at a very strategic time," said Clark Thompson, Colorado Petroleum's CEO. "We were able to identify an excellent real estate investment opportunity that enables the company to continue to build our business in a world-class, state of the art facility."
In the new headquarters building, Colorado Petroleum will continue its 85-year history of Colorado-based manufacturing and distribution to maintain its high-quality and customer satisfaction.
Colorado Petroleum's new worldwide corporate address will be 5590 High Street in Denver, Colo., USA.
About Colorado Petroleum
Colorado Petroleum Products Company was originally founded in 1927, and has been under current ownership since 1971.
Colorado Petroleum Products Company is a compound blender and distributor of finished lubricants for the automotive, heavy duty and industrial industries for the Colorado, Arizona, Wyoming, California Utah and Nevada markets. Tucson Arizona is our satellite manufacturing facility with an additional distribution and warehouse in Phoenix Arizona.
Our brands include Rugged Motor Oil and Silver State Full Synthetic Motor Oil. Colorado Petroleum specializes in private labeling for OEM's, Retail Parts Stores and Supermarket Chains to name a few. Colorado Petroleum is actively seeking partnerships and/or distributorships throughout the western half of the United States now that we have the means to do so with our quality products and competitive pricing. For more information, visit http://www.colopetro.com.