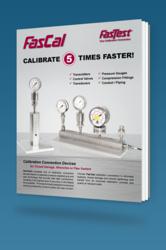 Minneapolis, MN (PRWEB) May 09, 2012
FasTest announces the latest edition of its FasCal Calibration Connection Devices Brochure, which can be conveniently downloaded or is available in print by request. This comprehensive, 28-page resource details FasTest's innovative line of FasCal calibration products, specifically designed to overcome common challenges experienced when calibrating instruments such as transmitters, pressure gauges and transducers.
Offering a wide variety of connectors and devices that provide quick, leak-tight connections without the use of tape, thread sealant or wrenching, FasCal connectors allow technician to calibrate a large quantity of instruments, fast—meeting virtually any application requirement. Featuring pressure assisted grip and seal technology, these connectors deliver repeatable, high-pressure connections. Plus, with "plug and play" simplicity, they connect to a variety of thread profiles, eliminating thread damage and minimizing the risk of contamination to process media for improved accuracy, productivity and efficiency.
By describing key features, fitting compatibilities, specs and applications for each connection device, the FasCal brochure provides a complete, easy-to-navigate industry guide for calibration solutions. Listing housing options, internal/external thread connection and psi ratings enables technicians to effortlessly select the appropriate connector for individual applications. Additionally, the brochure contains detailed illustrations that direct users on proper usage and implementation.
FasCal connectors are ideal for a broad scope of applications and provide reliable connections to a wide variety of instruments including:

Calibrators
Valve Actuators
Pressure Gauges
Transducers
Compression Fittings
Pipe Threads
To learn more about FasCal connector solutions, download the brochure here.
For additional information, including contact information for lead reports, contact FasTest's publicist: Kate Flaherty (Next Communications). Phone: 952-934-8220. Email: [email protected]
FasTest is a dedicated manufacturer of productivity and high quality improvement connection tools for pressure, flow and vacuum testing applications. FasTest's complete line of specialty connectors are designed to provide leak-tight, reliable connections for calibration and other industrial manufacturing applications. Custom leak test capabilities are available for unusual or unique requirements.
For additional FasTest products or information, contact:
1-800-444-2373 • http://www.fastestinc.com • fastsales(at)fastestinc(dot)com