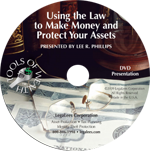 I am giving away some of the best strategies I've used on some of my wealthiest clients
Orem, UT 84058 (PRWEB) May 08, 2012
Lee Phillips, considered one of the top asset protection and estate planning attorneys in the nation, announced today that he is giving away a 90 minute DVD that details the processes of asset protection and estate planning. "Using the Law to Make Money and Protect Assets" is the title of this 90 minute DVD.
The DVD goes into great detail of how to structure a business for asset protection. Phillips, who is also Counselor to the United States Supreme Court says, "I am giving away some of the best strategies I've used on some of my wealthiest clients."
The DVD contains 9 legal loopholes, structuring businesses against failures, accidents and lawsuits. It also contains the "ins and outs" of the 2 money making gifts the IRS gives, good vs. bad assets, how to handle upside down properties, tips on making more, saving more, retirements, trusts, and finally asset protection.
Get all the details about the DVD here
This is a smart move for Lee who for the last 30 years has shared his expertise and knowledge with numerous crowds throughout the nation. More and more Americans are in need of good, sound financial education and this could be a game changer rolling out this new DVD for individuals in need of asset protection and estate planning.