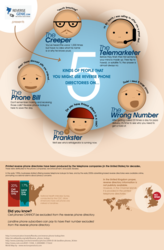 According to a legend, Steve Wozniak, cofounder of Apple, was once the owner of the phone number 888-8888. The problem with this cool number is that it received more than a hundred prank calls every day.
Boston, MA (PRWEB) May 15, 2012
Smartphone owners who have ever missed or received a prank call will be happy to hear that the ReverseGenie APP now offers the ability to conduct reverse phone number searches from their mobile device. No longer users will need to wait until they reach their laptop or PC – now all they need is the downloaded application for their Android or iPhone device, and can utilize the free reverse search engine using the ReverseGenie APP.
Users can easily uncover these details about a phone number using the ReverseGenie APP: Name of owner, Email address and Cell phone number.
ReverseGenie continually strives to provide users with access to the most up-to-date and accurate ownership details about a number.
Other free features of the ReverseGenie APP include: Unlimited reverse email searches that provide links to the owner's Facebook profile and a Free Caller ID.
After downloading the ReverseGenie APP for the Android or iPhone, all a user needs to do is simply enter the number they are researching for instant results from databases encompassing more than a billion phone and other records. A convenient feature about the app's searching capability is that it will allow the user to select a number from their recent call history, preventing the need to actually type the ten-digit phone number into the search field.
Perhaps the best part about the ReverseGenie APP is that the service is completely free and unlimited for users. Now smartphone owners can utilize the ReverseGenie APP on any iPhone or Android by simply visiting http://www.ReverseGenie.com.