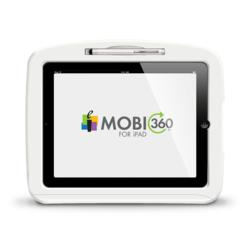 The new Mobi Case for iPad is a 'must have' for teachers using an iPad for classroom instruction.
Scottsdale, AZ (PRWEB) May 09, 2012
eInstruction Corporation, a global education software and technology company, continues to deliver industry-leading solutions that improve teacher mobility in the classroom and now offers supreme protection for all-day, everyday use of the iPad with the release of the new Mobi Case for iPad. While the marketplace offers innumerable case options to protect the valuable investment of an iPad, the Mobi Case for iPad is specifically designed to meet the unique needs of today's teachers using the mobile device for instruction.
With the proliferation of iPad use during lessons, eInstruction's new Mobi Case for iPad alleviates concerns of probable damage or destruction that can result from the variety of elements in a classroom environment. Based on the popular Mobi mobile interactive whiteboard design from eInstruction, the Mobi Case for iPad also has grips on the side and top, allowing teachers to comfortably control their iPads, in a variety of positions, throughout an entire school day; a complement to the armor-like barrier the case provides against potential harm.
"The new Mobi Case for iPad is a 'must have' for teachers using an iPad for classroom instruction," said Eric Rohy, Vice President of Product Management, eInstruction. "Unlike other cases that are available today, eInstruction has tailored the product to meet educators' needs, ranging from comfort and control to damage protection and security. It is also a perfect extension to the Mobi 360 for iPad app that allows teachers to control their instruction and assessment from anywhere in the classroom."
In addition to drop protection and all-day ergonomics, the new Mobi Case for iPad also offers a comfortable, easy-to-use stylus. The stylus gives teachers the choice of interacting with their iPad with their finger, the stylus or both, and it magnetically "docks" to the Mobi Case for iPad directly above the tablet screen for simple and quick storage. With a Kensington Security Slot*, teachers can safely secure their iPads when not in use.
For added convenience, the case features an opening to the iPad's charging and sync dock connector, offering easy access without the need to remove the iPad from the case. The Mobi Case for iPad also includes a camera opening, enabling use of the iPad's camera for classroom activities while remaining in the case.
The Mobi Case for iPad complements eInstruction's formative instruction system, Insight 360, which was introduced earlier this year. Educators can access the formative assessment and mobile interactive whiteboard capabilities of Insight 360 on an iPad, through the Mobi 360 for iPad app. The Mobi Case for iPad offers the ideal case option for teachers when using the Mobi 360 for iPad app or other apps during instruction.
The new Mobi Case for iPad is now available for the iPad 2 and will soon be available for the iPad 3. The case has an education suggested retail price of $59 and is available through eInstruction Authorized Resellers and Sales Representatives in the U.S. and worldwide.

Kensington cable not included.
About eInstruction®
eInstruction is a leading education technology company dedicated to providing interactive teaching and learning technology and services that help educators drive academic progress every day, and give administrators the ability to monitor, aggregate, and analyze student performance data. The company offers educators a family of software, student response systems, fixed interactive whiteboards, mobile interactive whiteboards, professional development, and content.
eInstruction's research‐based solutions have been shown to increase student
engagement and achievement while providing real‐time feedback and performance data to educators and administrators. Millions of students, teachers, and professors use
eInstruction® technology in 600,000 K‐12 classrooms and more than 500 higher education institutions around the world. Available in more than 40 languages, eInstruction® technology is enhancing education in over 90 countries worldwide.
eInstruction has its global headquarters in Scottsdale, AZ and remote offices in Denton, TX; Fort Wright, KY; and Paris, France.
To learn more about eInstruction, please visit http://www.einstruction.com. For media inquiries, please contact Amy Bowman at Stanton Communications at (410) 727‐6855 or abowman (at) stantoncomm (dot) com.