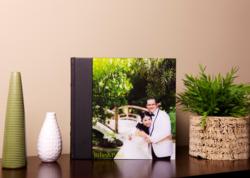 We believe a wedding album should be a reminder of the promise that was made and the joys that were shared on that special day.
Plainfield, IL (PRWEB) May 09, 2012
Albums Remembered is a direct to consumer wedding album company located in suburban Chicago. They have developed a new concept within the wedding album industry that is sure to change the face of the industry forever. While your traditional wedding album may be desired for weeks maybe even a couple of months, one thing that's guaranteed is it will end up being placed in a drawer or closet and ignored for decades. The Fashionista and Modernista wedding album lines by Albums Remembered are "Made To Be Displayed" as a piece of artwork or elegant picture frame, within the home. In this way, the custom flush mount wedding album is a consistent reminder of this momentous day and will bring endless joy to the couple.
In addition to providing a wedding album that doubles as artwork or an elegant picture frame, Albums Remembered has established an all inclusive pricing model, to include: facilitation of image selection, custom designing, color correction, unlimited revisions, digital layout sharing, and much much more. Albums Remembered has not only found a way to introduce an exciting new style of wedding albums, but has done so at a price point all budget conscious couples and/or cost conscious photographers can appreciate.
Carrying over ten different style of albums within the two distinct product lines, it's certain that they will have something for all soon to be newlyweds. So, if you're a couple whom enjoys the simplicity behind modernism, and would preferably like to have an album that poses as an elegant picture frame, then the Modernista line suits you best. On the other hand, if you're a couple whom enjoys bold colors, vivid patterns, shining reflections, arts and fashion, then the Fashionista line is for you. We guarantee that once the album custom designed wedding album is displayed in the home, it will become a cherished piece of art for the couple and all visitors to notice and admire.
Furthermore, all of our wedding photo albums are of flush mount style, which is the most tasteful and timeless option for pictorial displays. Clearly, wedding photo albums that are actually artwork for the home is an avant-garde move within this industry and Albums Remembered is quickly making a name for themselves, as the leader in this field. According to company president Paul Bancherau, "We believe a wedding album should be a reminder of the promise that was made and the joys that were shared on that special day. And with this belief we've designed our albums to be a piece of art or an elegant picture frame that can be elegantly displayed in the home and be a constant reminder of why we married."
Albums Remembered has taken the time to get to know the modern bridal couple and has crafted a line of flush mount wedding albums that is actually changing the industry itself, while at the same time providing substantial cost savings to the newlyweds. The average wedding costs in excess of $25,000 and astute brides will take every opportunity to save some money while not compromising on quality. Albums Remembered is therefore a logical option for their wedding photo album needs.
All of the creations designed by Albums Remembered are high quality and intended to endure the test of time. Because they are timeless in their styling, the wedding album will never appear dated or passe and will never end up thrown in the back of a junk drawer or closet.
###