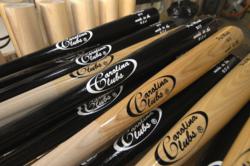 Their secret is a unique manufacturing process for wooden baseball bats where the maple and ash wood never changes hands.
West Palm Beach, FL (PRWEB) May 08, 2012
Carolina Clubs Inc., manufacturer and distributor of professional quality maple and ash wood baseball bats, launched a new website this week. This outstanding baseball bat manufacturer has been providing professional, and amateur, players with high quality baseball bats for over 20 years. The company's new website was built with baseball players in mind and enables website visitors to purchase custom bats online. Carolina Clubs has gained an industry leading name as only one of four manufacturers in the nation that produces bats from start to finish, beginning with the selection of the perfect standing timber and ending with the finished product, a custom wood bat that is second to none.
Wooden baseball bats have been part of the game from the start, and Carolina Clubs has perfected wood bat manufacturing. They produce the highest quality wood baseball bats for their customers time and time again. Their secret is a unique manufacturing process for wooden baseball bats, where the maple and ash wood never changes hands. Carolina Clubs chooses standing timber to harvest, and manufactures their wooden baseball bats from raw timber to finished bat. The end result is that Carolina Clubs' clients receive the same high quality products every time they order a wood bat. The launch of their new website has made ordering these professional quality baseball bats easier than ever.
Carolina Clubs' website features an easy way to navigate catalog and highlights all of their pro maple and ash wood baseball bats. The website offers numerous adult and kids bats in sizes from youth trainer bats, up to professional bats. In addition to their line of pro and youth wood bats they offer tee-shirts, custom trophy bats, and will soon introduce a line of high-quality aluminum baseball bats that will be available for purchase online. The new Carolina Clubs website catalog has made ordering their products easier, which adds another great touch for a company that ranks so high in customer service.
Kevin Lane, President and Co-Founder of Carolina Clubs, had this to say about the launch of their new website, "I am really excited about our new website. It provides our customers with an extensive catalog to shop for our maple and ash wood bats, and soon our new line of aluminum bats. It also gives our customers information about our company and our manufacturing process. The new online shopping experience allows us to bring new products directly to the market, so customers can find them online very quickly."
Carolina Clubs offers the highest quality professional wood baseball bats and youth wood bats. They also provide custom trophy bats that make a great and unique baseball gift, tee shirts, and coming soon Carolina Clubs will offer a line of high quality aluminum baseball bats in youth sizes. The Carolina Clubs Store is located exclusively online. Carolina Clubs can be reached by phone at (888) -4-NO-CORK (888-466-2675), by email, or orders can be placed directly through thier online shop. Website and online marketing has been provided by Atlanta SEO Company, Interactive Search Marketing.