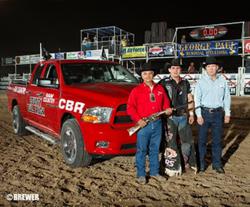 Luis Blanco will name his unborn son George Paul
Fort Worth, TX (PRWEB) May 08, 2012
The George Paul Memorial (GPM) Championship buckle is one of the most sought after buckles in bull riding, and Superbull, the first ever stand-alone bull riding event, has witnessed some of the most amazing bull riding ever seen. Every big name bull rider in the past 35 years has passed through the bucking gates at Superbull, and with each new year comes a new chapter in the history of bull riding.
The GPM Championship is named in memory of one of the greatest men ever to ride a bull, George Paul, who rode an astonishing 79 consecutive bulls. The only other man to have come close to that number is Tuff Hedeman, with 36 consecutive bull rides under his belt. Not surprisingly, George Paul folklore abounds in bull riding circles, with each tale conjuring up an image of a strapping young hero, full of life and love for rodeo.
As the legend of George Paul looms large to this day, it is no wonder that the 35th anniversary of the very first GPM Championship resulted in yet another extraordinary event, and while Luis Antonio Blanco will not go down in history as the 35th GPM winner, his name will not soon be forgotten.
Blanco grew up in a small, modest town in Brazil and came to America only recently in the pursuit of the American Dream: to be a cowboy. His idol: Tuff Hedeman. His favorite movie: 8 Seconds. His love: everything the American cowboy represented.
When Blanco first came to the CBR via the subsidiary tour, Horizon Series, he was so star struck when he laid eyes on his hero, Tuff Hedeman, he almost found himself unable to ride out of sheer nervousness. This soon passed, however, and Blanco earned his spot on the CINCH Tour where he continued to climb the rankings as a strong bull rider with ever-evolving skills and unyielding determination.
Blanco travels with other riders who combine a strict workout regimen with extreme focus and the will to win, qualities not seen in one group of riders in a long, long time. It seems the modest means of his youth awakened a hunger in Blanco, and he knew very early on that he needed to support himself, his family in Brazil, and his dream.
It was on April 28, 2012, that Blanco's life changed forever. After scoring the high marked ride of the competition's first round, he was given the opportunity to ride a bull for a bonus: a brand new 2012 Dodge Ram truck, donated by the title sponsor. Unfortunately, as Blanco was preparing to ride his bull, a rookie mistakenly opened the gate before Blanco signaled he was ready to ride. Although Blanco still attempted to ride the bull, he was unprepared and was bucked off. It was at this moment that his idol stepped in. Tuff realized the gate was opened prematurely and gave Blanco another opportunity to ride for the prize. And that's just what Blanco did. He not only rode the second bull for the eight seconds, but for the top score of the entire competition, 92.
The ecstatic crowd stormed the arena to celebrate, and among them stood a petite, young woman, obviously with child. Blanco swept her into his arms, and their connection became apparent. In fact, the woman is Gabriela, his long-time sweetheart. The two had been talking of marriage for some time, but financial worries coupled with the uncertainty of Blanco's career as a bull rider in the U.S. prevented them from taking that final step.
However, for Blanco, winning the prize was a sign, and the following Monday, just after he took ownership of his new truck, he married his love. Later that day, Blanco announced he would name his unborn son George Paul Blanco to symbolize that his moment in the bull ring that day would lead him to the same greatness as the man who started it all.