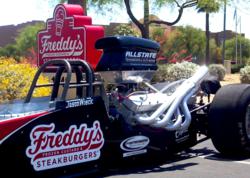 It didn't hurt that at the time he had well over 20K Facebook and Twitter followers, a lot of them here in Phoenix
Phoenix, AZ (PRWEB) May 08, 2012
For the past 5 years Twitter and Facebook Fans of Jason Wieck Racing have followed the story of the drag racing team just starting out, to the debut of the teams newly completed Super Comp Dragster last weekend. What started as just a few friends and family following along, has grown into over 40K combined Facebook and Twitter followers.
A large Phoenix transmission repair shop, Allstate Transmission And Auto Repair was the first to sponsor the Weick team. Jeff Wilson, co-owner and general manager at Allstate Transmission, says he saw something in Jason Wieck, the owner/driver of the Jason Wieck Racing team out of Phoenix, AZ. "Jason was very passionate and professional about marketing his drag racing team" says Wilson, "It didn't hurt that at the time he had well over 20K Facebook and Twitter followers, a lot of them here in Phoenix".
Originally the sponsorship endeavor agreed to by Allstate Transmission And Auto Repair included Allstate supplying one of their "Ultra Built" Super Comp Transmissions in exchange for their Logo on the side of the Wieck dragster. As the relationship between the two local Phoenix companies grew, the help each supplied to the other increased.
Wilson states, "At some point we started treating the dragster as one of Allstate Transmissions project cars, we were; wiring, fabricating and even building an engine for the dragster. We spent a lot of man hours to get it to the point it's at today, the whole team is very proud of what we've accomplished".
Arguably the fourth most followed race team on Facebook, beating out big name NHRA drag racing teams, including; Al-Anabi Racing, The Schumacher Racing Teams and Team Wilkerson Racing, Wieck helped Allstate Transmissions with their social media campaign in return for the extra help on the dragster. "He helped us reach almost 1,500 Facebook Fans and over 1,200 Twitter Followers" Wilson says.
Wieck firmly believes that all of his Twitter Followers and Facebook friends and fans are responsible for getting him where he is today. "We just picked up a new title sponsor for the year, Freddy's Frozen Custard and Steak Burgers. Without social media, I never could have got the exposure I have; it's opened doors for me that otherwise, I couldn't have even found the doorknob for".
With the amount of social media buss this last week from the debut of the dragster, a reported 28,852 post views and 1,033 people talking about it on Facebook alone, there's no doubt that social networking has paid off for both companies!
Business information for Jason Wieck Racing;
Owner; Jason Wieck
Mailing Address;
JWR
2202 N 16th St
Phoenix, AZ. 85006
Phone: 480 310-9371
Business information for Allstate Transmission;
CEO; Dan Deary
General Manager; Jeff Wilson
Mailing Address;
Allstate Transmission And Auto Repair
5154 N 27th Ave Ste 103
Phoenix, AZ. 85017
Phone; 602 253-2553