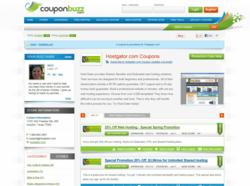 Anyone thinking about starting their own website shouldn't miss this deal...
Houston, TX (PRWEB) May 08, 2012
A HostGator coupon is giving web users a spring boost with a sensational 25% off web hosting spring offer. For a limited period only, anyone launching a new website using HostGator.com can benefit from this substantial reduction on the cost of website hosting. Coupons for this amazing deal are available only through CouponBuzz.com.
"Anyone thinking about starting their own website shouldn't miss this deal," says CouponBuzz.com owner and founder, Justin Bowen. "HostGator is simply the best in the business and now customers can make the most of their superior services AND get 25% off the normal cost of web hosting."
HostGator has been offering its website creation and hosting services to customers for more than nine years, and has earned a slew of awards including WebHostingClue's 2011 Best Small Business Hosting Company and the HostReview 2011 Award for Best Budget Hosting.
Anyone can start up their own website using the easy-to-use features of HostGator.
Customers can choose from a range of packages to suit every need and budget. HostGator offers unlimited disk space and bandwidth, unlimited sub domains and email accounts, and guarantees 99.9% uptime. Every package is backed by a money-back satisfaction guarantee.
To benefit from this exceptional offer, customers simply need to collect their HostGator coupon code at CouponBuzz.com and redeem it at the HostGator.com website.
The deals don't end there. To celebrate this new collaboration between CouponBuzz and HostGator, the leading coupon site is also offering visitors discounts on products across the entire web hoster's site. Customers just have to obtain their Save with Current Offers for HostGator.com coupon and cash it in on the HostGator website.
CouponBuzz is one of America's leading coupon sites, with offers on thousands of deals at any one time. Coupons are updated daily offering visitors to the site a wide range of discounts on anything from art and auto, to weddings and web services.
To take advantage of HostGator's offers, customers can collect and redeem their coupons at CouponBuzz.com.