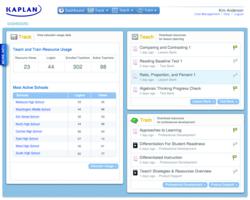 New York, NY (PRWEB) May 07, 2012
Kaplan K12 Learning Services' Teach!® Strategies & Resources has been recognized as the top Curriculum Development program in the "Teacher Tools" category, by The ComputED Gazette, as parts of its 2012 Best Education Software Awards (BESSIE Awards). The BESSIES, now in its 18th year, recognize innovative and content-rich programs and websites that provide parents and teachers with the technology to foster educational excellence. Winners were selected from around the world and judged on academic content, potential for broad classroom use, technical merit, subject approach, and management system.
Kaplan K12's Teach!® Strategies & Resources is an online toolkit with robust instructional and professional development assets to support teacher development as the new Common Core State Standards and academic benchmarks shift from policy to practice. Based in pedagogical best practices and aligned to state-specific and Common Core standards, the tools included in Kaplan's Teach!® Strategies & Resources support rigorous differentiated instruction, training and assessment. The toolkit includes an online library of more than 3,000 lessons, assessments, quizzes and videos that teachers can easily search, and filter by grade (2-12), subject area, state-specific standards, and/or Common Core State Standards to find immediate, actionable tools for classroom use.
The Common Core State Standards are an effort led by the Council of Chief State School Officers and the National Governors Association to define the knowledge and skills in English language arts and mathematics that students need upon high school graduation. Forty-five states have adopted the Common Core State Standards and are turning their attention to the critical work of how and when to implement the new standards.
"We consistently hear from educators and administrators that they lack high-quality digital assets that support teachers' instructional and development needs. We developed Teach!® Strategies & Resources to serve as a valuable toolkit to help teachers transition from their current classroom instruction to the new curricular requirements of the Common Core State Standards," said Justin Serrano, president of K-12 and College Prep, Kaplan Test Prep. "This BESSIE award reinforces the value that Teach! has to offer schools and districts in helping meet the needs of teachers and administrators as they implement the Common Core State Standards to better prepare students for college and future careers in the 21st century."
This marks Kaplan's second BESSIE Award earned this year. Kaplan has also been recognized with a 2012 BESSIE for the top high school "Test Preparation Website" for its ACT® on Demand* program – a comprehensive, interactive and personalized course that allows students to go at their own pace and on their own schedule.
About Kaplan K12 Learning Services, LLC.
Kaplan K12 Learning Services (kaplank12.com), a unit of Kaplan Test Prep (kaptest.com), partners with schools to measurably propel student achievement and accelerate college readiness. Kaplan K12 offers state test readiness programs to help students meet and exceed state standards, and college preparation solutions that support students as they prepare for college entrance exams and the admissions process. Its solutions also provide teachers with robust Kaplan K12 resources and professional development support to impact achievement in their classrooms. Kaplan Test Prep is a division of Kaplan Inc. (kaplan.com), a subsidiary of The Washington Post Company (NYSE: WPO).