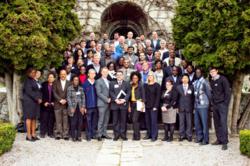 This call to action represents a major step forward in building consensus around new directions for fundamentally changing how health systems can improve care, with available resources
Bethesda, MD (PRWEB) May 08, 2012
Low and middle income countries have major health challenges: many countries are not on track to attain their Millennium Development Goals (MDGs), non-communicable diseases are emerging as the primary cause of mortality for the future, and little progress has been made in addressing unsafe care that harms millions each year.
Despite significant improvements in life expectancy and in some aspects of health care in the last two decades, daunting challenges remain to be solved in these countries. The Salzburg Global Seminar "Making Health Care Better in Low and Middle Income Economies" brought together global health leaders and practitioners who believe that a change in the health care paradigm is needed to help countries to address the critical gap between knowledge of interventions that improve population health and the care actually provided to patients. Quality Improvement (QI) is one approach that can be applied to rapidly improve health system performance and outcomes. QI is a proven, data driven method that places the responsibility and knowledge for rapid change in the hands of every patient, provider, manager and leader.
Fifty-eight health officials and representatives of leading health agencies from 33 countries, participants of the Salzburg Global Seminar, are now urging all health policy leaders, patients, communities, health care workers, non-governmental organizations, development partners, and governments to endorse recommendations that could drive a new approach to solving health challenges in these countries. They call on:
1. Governments to be accountable for the improvement of health care through legislation, policies and necessary resources,
2. Health policy leaders to adopt and promote quality improvement as a cornerstone of better health for all,
3. Communities to actively advocate for quality health care as part of their rights and responsibilities,
4. Development partners to invest in approaches that drive sustainable context-specific improvements in global health,
5. Non-governmental organizations and those providing technical assistance in global health to incorporate evidence-based improvement methods in their work,
6. Health care workers to continuously improve the delivery of expert and compassionate care to patients, their families and communities, and
7. Patients to be empowered and at the forefront of promoting a shared vision for better health for all.
The Salzburg Global Seminar and University Research Co., LLC (URC), which co-organized the meeting, are now inviting others to join in signing on to the statement at http://www.hciproject.org/salzburg-call-to-action.
"This call to action represents a major step forward in building consensus around new directions for fundamentally changing how health systems can improve care, with available resources," said Dr. M. Rashad Massoud, Senior Vice President of URC and Director of the US Agency for International Development(USAID) Health Care Improvement Project (HCI). "It will propel us into the coming decade to take health care improvement to the next level, strengthening health systems to deliver high-impact interventions to every patient, every time needed."
Sir Liam Donaldson, World Health Organization (WHO) Patient Safety Envoy, said: "The Salzburg Seminar brought powerful and original insights about how they might contribute to strengthening health care systems in middle and low income countries. The unique character of the Seminars and the free-thinking nature of the discussions have yielded ideas that are important and durable."
Sir Liam and Dr. Nils Daulaire, Director of the Office of Global Health Affairs, U.S. Department of Health and Human Services, will help lead a special session at the World Health Assembly in Geneva in May to present the joint statement to Ministers of Health and health leaders from over 140 countries.
A small group of experts from USAID, Institute for Healthcare Improvement (IHI), University of North Carolina, the WHO Patient Safety Programme, HEALTHQUAL International, Heidelberg University, and SGS, led by Dr Rashad Massoud from University Research Corporation (URC), organized the seminar. The Bill and Melinda Gates Foundation, USAID, Salzburg Scholarships, URC, Deutsche Gesellschaft für Internationale Zusammenarbeit (GIZ), WHO Patient Safety, IHI, Atlantic Philanthropies, Nippon Foundation, and the U.S. Centers for Disease Control and Prevention funded the meeting.
The full text of the Salzburg Statement "Better Care for All, Every Time" is available online on the Salzburg Global Seminar website.
About URC
Established in 1965, URC is a global company dedicated to improving the quality of health care, social services, and health education worldwide through programs in over 40 countries, including the global USAID Health Care Improvement Project. With its non-profit affiliate, the Center for Human Services, URC is based in Bethesda, Maryland, USA and has over 850 employees around the world.
About the Salzburg Global Seminar
The Salzburg Global Seminar (SGS) was founded in 1947 to encourage intellectual reengagement in post-war Europe. From that first summer in Salzburg, Austria, a year-round program emerged that has convened hundreds of seminar sessions and more than 27,000 participants on its historic campus anchored by Schloss Leopoldskron, an 18th-century palace which, from 1918 to 1938, was home to Max Reinhardt, co-founder of the Salzburg Festival. During the Cold War, Salzburg provided a neutral space where East and West could meet and freely explore contending ideas. Since 1989, it has become a global institution, bringing together present and future leaders from all regions of the world to test their ideas and seek solutions to global problems.