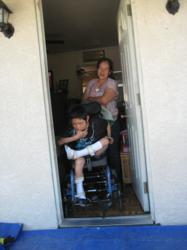 Waves goodbye were filled with gratitude, and yet filled somewhat with a tint of sorrow to see such a good day come to an end.
Ventura, California (PRWEB) May 09, 2012
The lives of two families challenged by disabilities have benefitted from combined efforts of local businesses and individuals who donated a day of labor and resources to improve their homes. On April 28, national nonprofit organization Rebuilding Together, together with forty local volunteers, completed crucial improvements and upgrades that these families had been unable to accomplish on their own.
Daniel Morales, a 10-year-old boy with cerebral palsy, and his family were the happy recipients of a new wheelchair ramp, repaired driveway gate with access to the ramp for easy loading into transportation and overall improvements to the property such as tree-trimming, landscaping and house painting. The ramp and gate have already made a huge difference in their daily lives, as Daniel's mother is now able to load her son into their car with much greater ease.
Rossiland Ruiz and her 90-year-old mother, Alice, were overjoyed at the safety improvements made to their home such as new steps with safety railings, and property improvements including a freshly painted driveway gate, trimmed trees and the pruning of 45 feet of overgrown bamboo that had encroached from a nearby property.
"The crew that came to our house was wonderful. They were so friendly, kind and considerate, and they worked marvels with the yard and gate – with smiles all the way through. We appreciate the hard work of everyone on the Rebuilding Together Ventura County team. I know that coordinating the details is very intensive, and you did it while keeping things fun," said Rossiland.
Rebuilding Together Ventura County is grateful for sponsorship provided by the City of Ventura's Community Development Block Grant Program (a HUD grant program), California United Bank and the American Martial Arts Academy for this project. Groups from The Rotary Club of Ventura East, local Bank of America and individuals from the community also joined together to improve the lives of their fellow community members. Additional support was provided by EJ Harrison.
"I was House Captain for one of the properties involved, in which I worked with 14 dedicated and hard working volunteers, primarily from Bank of America and Rotary Club of Ventura East," said Pilar Doolittle, a Bank of America AVP. "As we began our work, we learned the homeowner was a Bank of America associate for 25 years, so as you can imagine, this set off a great cheer of camaraderie among the group, and built a very sincere rapport from the beginning of the project.
"Volunteers, teenage to adult, gave it their all in the hot sun, and completed all tasks prior to the lunch hour. It was a great accomplishment, and the homeowner was very pleased, to say the least. Waves goodbye were filled with gratitude, and yet filled somewhat with a tint of sorrow to see such a good day come to an end."
About Rebuilding Together
Rebuilding Together believes everyone deserves to live in a Safe and Healthy Home. The organization brings volunteers and communities together to improve the homes and lives of low-income, elderly or disabled homeowners who qualify. They hold a 4-star charity rating for seven years running from Charity Navigator, the nation's largest charity evaluator.
Rebuilding Together began nearly 30 years ago when volunteers in Midland, Texas pitched in after seeing neighbors struggling to afford needed home repairs. Today, more than 200 chapters across the United States have harnessed the talents and energy of some 3.4 million volunteers to save 100,000 homes from decrepitude. Since its inception in 2004, the Ventura County Chapter has rebuilt or revitalized approximately 59 single-family homes, two schools, six day-care facilities and two Boys & Girls Club centers. Rebuilding Together is a 501(c)3 organization and all donations are tax-deductible.