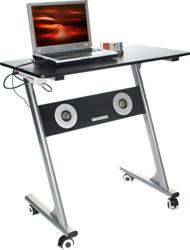 Miramar, FL (PRWEB) May 08, 2012
RTA Products LLC is excited to report on the latest additions to their new ergonomic solutions lines, The Sharper Image® and 2COOL®. The features of these innovative ergonomic solutions suit the needs and lifestyles of fathers, high school and college grads, making it simple to select a tech-savvy Father's Day gift or a graduation present sure to prepare the special grad in your life for their future.
For Father's Day: Perfect for fathers on-the-go, whether for business or pleasure, The Sharper Image RTA-SI2010 Foldable Lap-table is foldable, portable and compact for on-the-go use, granting users desk space whether they may be on a plane, a train or the couch. The RTA-SI2010 also features dual USB powered cooling fans, keeping dad cooler than cool even when things heat up, plus an integrated 3-Port USB 2.0 Hub and a power port to ensure that no matter how close or far from home dad may be, he's always connected.
For the High School Graduate: For those heading to college, there are two things these graduates can be certain of: they'll be writing many papers and their living quarters will be tight. Prepare this graduate with The Sharper Image RTA-SIM1102 Stereo Desk, which incorporates two HiFi speakers so users can play high-quality stereo music from their computer, iPods or iPads. Just plug in the included USB port to your device! Not only will it play your favorite songs, but it will charge your devices as well. It's also equipped with designer double-wheel non-marking casters for exceptional mobility, granting this graduate a mobile desk with plenty of space for their laptop and books that can easily be pushed aside when not in use. The RTA-SIM1102 also offers three additional USB ports, a large cooling fan to keep laptops from overheating, and can be activated using a laptop, or without a laptop via the included AC Adapter.
Ease the strain of those lengthy term papers with The Sharper Image RTA-SISK11 ergonomic laptop stand which offers a built-in full-size keyboard, fully functional touchpad with left and right buttons, and an open back design that allows heat to escape, keeping this graduate's laptop cool. The RTA-SISK11's ergonomic design also prevents the neck strain that occurs with extensive time spent hunching over laptops.
For the College Graduate: For the tech-savvy and on-the-go graduate, whether on the job hunt, visiting roommates or working, the 2COOL 2C-TCK02C iPad Case protects their essential electronic accessory while providing a spill-resistant and dust-proof built-in Bluetooth® keyboard. With the added benefit of an ergonomic and adjustable viewing stand, this graduate will be able to take advantage of all the benefits of full-size laptop, without the added weight or neck strain.
"With the advent of our innovative ergonomic laptop and mobile accessories lines, our goal is to revolutionize how consumers experience their laptops and other portable devices such as iPad® and e-Book readers," said Gabe Dickstein, managing director of RTA Products. "Each RTA Products mobile laptop and tablet accessory was developed with an eye for detail to ensure that users can enjoy their devices for hours without compromising on comfort or style."
To view the entire The Sharper Image and 2COOL lines of workspace and ergonomic solutions, please visit http://www.rtaproducts.com.
About RTA Products LLC
Founded in 2002 RTA Products leverages more than 35 years of experience in the consumer products marketplace and specializes in creating quality ergonomic products that provide innovative workspace solutions for both the home and professional office. The RTA Products brand portfolio includes a variety of ergonomic solutions ranging from the 2COOL line of ergonomic laptop stands and tablet accessories, The Sharper Image line of ergonomic laptop stands and tablet accessories, home office chairs and desks, and the TECHNI Mobili line of ready-to-assemble home office desks and chairs. For additional information about RTA Products visit http://www.rtaproducts.com.
Connect with RTA Products on Facebook at http://www.facebook.com/2COOLSolutions and on Twitter at http://twitter.com/2COOLSolutions.
Media Contact
Jessie Barrett
Account Executive
lotus823
Office: 732.212.0823
Email: jessieb(at)lotus823(dot)com