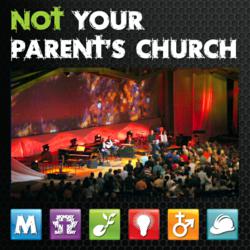 These seminars are relevant and hard-hitting. This is the best I have ever attended!"
– First Church of God | KS
Mission Viejo, CA (PRWEB) May 10, 2012
"Not Your Parents' Church", a national seminar presented by Building God's Way (BGW), will will be hosted at Mount of Olives Church in Mission Viejo, California on Thursday, May 31. The seminar speaker panel includes experts in the areas of church architecture, church building, church fundraising, church growth and leadership. Each of the speakers have worked with hundreds of ministries across the country and will share vital information about how successful and vibrant churches are responding to the largest generational shift in U.S. history.
Not Your Parent's Church will shed light on how the new generation is impacting the way ministry space is being designed, utilized and funded. Recent research indicates that 70% of those in the millennial generation feel that church is not relevant in their lives and a paradigm shift is bringing about new economic realities for ministries. Building God's Way church architects have designed more than 500 facilities for churches and Christian schools and will share new perspectives on master planning and design that are key in reaching the Millennial generation.
The architects and the BGW church builder for Southern California, Erickson-Hall Construction, will also share about a unique construction delivery model that is changing the way churches and Christian schools are being built. With a foundation based on relationships, stewardship and outreach, this proven process is delivering a consistent 20-30% savings compared to standard design and building methods - without lowering quality.
BGW Architect Don Mahoney has extensive background in church design, as well as school and performing arts architecture, designing prominent facilities with worship seating in the thousands. His expertise in architecture has been recognized with a number of national design awards, including multiple WFX Solomon Awards for Best Church Architect, Best Church Design, Best Special Project and Best Digital Church; The LCEF Arts & Architecture Award for Best Liturgical Design, and recognition among the 7 most innovative churches in America by Ministry Today.
Pastor Michael Goldsmith will headline the church fundraising and Church-Growth tracks of the seminars. Michael Goldsmith was formerly Senior Pastor of The Assembly in Broken Arrow, Oklahoma from 1998- 2008. Under his leadership, the church grew from 500 to more than 1,500 in weekly attendance. Michael also served as a trainer for John Maxwell's Million Leader Mandate in the Philippines and serves on the Generation Next Advisory Team of the Global Pastors Network.
Pastor Goldsmith will share some keys to developing momentum in any economic environment, momentum that can lead to increased attendance, greater member involvement and increased giving capacity. In another session, Michael will provide an overview of a radically different concept in capital fundraising called "Hearing from God." This refreshing approach is having dynamic results with ministries around the country without the high pressure and manipulation tactics common with most capital fundraising campaigns.
For more information or to register for a BGW "Not Your Parents' Church" seminar, visit the BGW Events Registration web page.
About Building God's Way - With a portfolio of nearly 400 churches and 120 Christian schools and colleges nationwide, Building God's Way ("BGW") has become a recognized leader in ministry design and construction. BGW has also developed an unparalleled network of kingdom building services that extend beyond just architecture and building and includes growth coaching, vision casting, capital fundraising, financing, leadership development and more. The mission of Building God's Way is to build God's Kingdom by translating the God-given ministry vision of Christian organizations through high-quality, cost-effective buildings and by demonstrating the love of Christ on the job site through the BGW Ministry of Construction program.