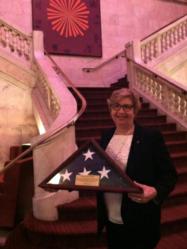 The hospitality business is a natural fit for helping others, but it's bigger than that. I have a son and a daughter, neither of whom are in the military, but thanks to this guest's daughter we all sleep better at night," - Barbara McMahon
Pittsburgh, PA (PRWEB) May 08, 2012
With Memorial Day soon approaching, the Renaissance Pittsburgh Hotel has announced a new Half Price for Heroes program that offers active and retired members of the US military and first responders 50% off their nightly room rate when booked by May 28th. The special rate can be used for any reservations now through Labor Day.
A touching experience with the family of a deployed soldier is what inspired the Renaissance Pittsburgh team to feature this promotion.
Donna Grady, currently stationed in Kuwait, had purchased a family weekend sports package to celebrate the birthdays of her dad and her brother. Barbara McMahon, General Manager and Matt Rosenberg, Rooms Division Manager, met the family as they were snapping photos in the lobby. "I offered to take a couple photos for the family as they were posing together by the stairs," said Barbara.
"Upon learning their story, I immediately offered to upgrade them to one of our luxury suites overlooking PNC Park since we had availability that weekend," Barbara said. "By the time we walked over to the front desk, Matt had already beat me to it!" The team also took care of further preparations for the family, including breakfast, welcome amenity, and parking.
A small gesture in completion of her management duties, Barbara did not realize the impact she and her team would have on the family. Weeks after their stay, a package came addressed to Barbara from Kuwait. The package contained a hand-written note from Donna along with a flag that had been flown during combat missions in Afghanistan:
One never fully understands the sacrifice of being so far from loved ones for so long until one endures it. After serving 11 months now, split between Afghanistan and Kuwait, it's hard to think of how much I've missed out on [my family's] lives. Yet, even though I was not there on the night of February 3rd, it was still the greatest moment of my deployment.
– SPC Donna Grady, 54th Quartermaster Company
"It's the responsibility of all of us as Americans, regardless of political affiliations or professions to recognize the men and women of our nation's military. I am very fortunate to work for Sage Hospitality, a company that encourages its hotels and employees to give back to the community. The hospitality business is a natural fit for helping others, but it's bigger than that. I have a son and a daughter, neither of whom are in the military, but thanks to this guest's daughter we all sleep better at night," said Barbara.
The framed flag now hangs on the wall of Barbara's office, acting as a daily reminder of the men and women serving to keep our country safe.
The Half Price for Heroes rate applies to active and retired members of the Army, Navy, Air Force, Marines and US Coast Guard, active members of the National Guard and Reservists, divisions within the Department of Defense, as well as first responders including firefighters, police and paramedics.
Reservations must be booked by Memorial Day to take advantage of the special rate and can be made by contacting the hotel directly or booking online. Guests must use the promotional code "LPR" when booking to receive the rate. Based on availability, the Half Price for Heroes discount is taken off the published room rate and applicable taxes apply. Guests will be asked to share valid military or first responder identification at check in.
About the Renaissance Pittsburgh Hotel
The Renaissance Pittsburgh Hotel is a city landmark with stunning architecture marrying classic and modern design. Located in the heart of the Cultural District, the hotel is just walking distance or a short cab ride to PNC Park, Heinz Field, Consol Energy Center and the David L. Lawrence Convention Center. The Renaissance Pittsburgh, one of the only luxury four-star hotels in Pittsburgh, is acclaimed by awards including The Conde Nast Traveler Gold List of Top 500 Hotels in the World in 2012, AAA's Four Diamond Hotel for the second consecutive year, and Trip Advisor's Traveler's Choice Top 25 Hotels in the US. For more information visit http://www.renaissancepittsburghpa.com.
About Sage Hospitality
Founded in 1984, Sage Hospitality has strategically grown into one of the largest privately held hotel management and development companies in the nation operating a variety of large, full-service hotels and extended stay and select-service properties. Sage Hospitality's comprehensive management portfolio includes major international brands for Marriott, Starwood, Hilton and IHG as well as the independent boutique hotels. Sage Hospitality has further differentiated with the creation of the Sage Restaurant Group, which has created and is managing 10 unique restaurant concepts including the acclaimed Mercat a la Planxa restaurant in Chicago. For more information, please visit http://www.sagehospitality.com.
###