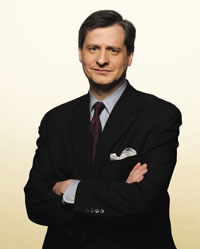 New Orleans, La. (PRWEB) May 09, 2012
Pulitzer Prize-winning author and presidential historian Jon Meacham will address Loyola University New Orleans' centennial Class of 2012 during its commencement ceremony on Saturday, May 12 in the Mercedes-Benz Superdome. Doors open at 8 a.m. and students will process beginning at 9:45 a.m.
Meacham, executive vice president of Random House Publishing, will receive an Honorary Doctorate of Humane Letters joining Loyola's other honorary degree recipients, Connie Jones, legendary cornet player who performed with the likes of Pete Fountain and the Dukes of Dixieland, and Paul Pastorek '76, J.D. '79, former Louisiana superintendent of education and Loyola alumnus.
During Saturday morning's baccalaureate ceremony, Loyola's School of Nursing will confer for the first time in Louisiana history the doctorate of nursing practitioner degree upon 18 candidates of the School of Nursing's post-Master of Science in Nursing to Doctor of Nursing Practice program. The School of Nursing has the only D.N.P. program in the state and was recently singled out as one of the best online graduate programs in the nation. It was one of only five nursing schools in the country, and the only Jesuit institution, to receive an honor roll designation in this area from U.S. News & World Report.
Loyola's College of Law commencement ceremony takes place at 5:45 p.m. that same day, also in the Mercedes-Benz Superdome. Stephen Higginson, J.D., a newly-appointed judge for the U.S. Court of Appeals 5th Circuit and a former Loyola faculty member, will deliver the address.
Doors open at 4 p.m. for the law commencement.
About the speakers and honorary degree recipients:
Jon Meacham is executive editor and executive vice president at Random House Publishing. Known as one of America's most prominent public intellectuals, Meacham is former managing editor of Newsweek and a bestselling author and commentator on politics, history and religious faith in America.
Meacham's New York Times bestseller, "American Lion: Andrew Jackson in the White House," won the Pulitzer Prize for biography in 2009. His other bestsellers include "Franklin and Winston: An Intimate Portrait of an Epic Friendship" and "American Gospel: God, the Founding Fathers and the Making of a Nation."
Connie Jones is known among musicians as one of the most talented cornet players to emerge from New Orleans. Since then, he has played with the bands of Santo Pecora, Jack Teagarden, Billy Krechmer, Billy Mexted, Frieddie Kohlman, Pete Fountain, The Dukes of Dixieland, and for nine years toured the country for Columbia Artists with his band, The Crescent Jazz Band.
Jones is also a founder, advocate and board member of the French Quarter Festival. As local artists and music styles were replaced in the New Orleans Jazz and Heritage Festival with more commercially viable and non-New Orleans music, Jones sought to found a nonprofit alternative to showcase local music and musicians.
Paul Pastorek '76, J.D. '79, is the general counsel and corporate secretary of EADS North America and has a career that spans more than 30 years in the legal community, government agencies and public service. He received both his undergraduate and juris doctorate degrees from Loyola University New Orleans.
Pastorek was a private practice attorney and partner for more than 27 years with the law firm Adams and Reese.
In 1996, Pastorek went into public service as a member of the Louisiana Board of Elementary and Secondary Education, where he served until 2004 and was elected to three consecutive terms as board president.
At the helm of the state education system, Pastorek's advocacy for better accountability and his success in implementing meaningful reforms within Louisiana's public schools and the recovery school district positively affected about 668,000 public school students.
Pastorek is recognized nationally among proponents of education reform for directing the state's efforts to turn around more than 100 of Louisiana's most challenged schools, including the rebuilding of elementary and secondary schools in New Orleans that were devastated by Hurricane Katrina.
Stephen Higginson, J.D., a former faculty member of Loyola's College of Law, was appointed to the federal bench in November 2011 after being nominated by President Barack Obama in May of that year and approved by the Senate Judiciary Committee in July.
Higginson joined Loyola University as an associate professor of law in 2004, teaching constitutional law, evidence and criminal law. He began his distinguished legal career at the federal level in 1989. Since 1993, Higginson has served as an assistant U.S. attorney in the Eastern District of Louisiana, where he became the chief of appeals in 1995.
For more information, please contact Loyola's Office of Public Affairs at 504-861-5888 or publaff(at)loyno(dot)edu