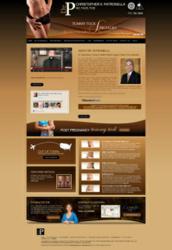 Houston, TX (PRWEB) May 09, 2012
Dr. Christopher K. Patronella, a board certified plastic surgeon in Houston, Texas, recently launched a new website exclusively devoted to the art of his signature abdominoplasty method, the True Form Tummy Tuck™.
"I've been refining the True Form Tummy Tuck my entire career," he says. "About ten years ago, I got to the point where I was satisfied with the entire result. It was like a puzzle, and I felt like the last piece of the puzzle was put in place."
An extension of his main website, http://www.PatronellaMD.com, the new site offers a full review of the True Form Tummy Tuck procedure. On http://www.tummy-tuck-specialist.com, consumers can view before and after photos in his gallery, gather information from the Frequently Asked Questions (FAQs) page, learn step-by-step details of the True Form Tummy Tuck technique, peruse a complete recovery guide, and read patient testimonials.
Dr. Patronella was inspired to develop this abdominoplasty technique by his desire to create results that more authentically captured the subtle features and smooth, elegant beauty of a youthful abdomen. The True Form Tummy Tuck restores the abdomen's firmness and soft contour nuances while preventing the "artificially flat, board-like look" and other unattractive surgical characteristics that traditional tummy tuck methods often produce. Dr. Patronella's signature tummy tuck technique offers a dramatic improvement, as it gives attention to the entire upper and lower abdomen and waist. This helps to restore the post-pregnancy or weight loss body, creating a more natural appearance.
The True Form Tummy Tuck can benefit those who are undergoing abdominoplasty for the first time as well as those who have visited Dr. Patronella for correction of their previous tummy tuck results. On average, he performs two hundred tummy tuck surgeries every year, with one out of 10 tummy tuck surgeries performed as revision procedures.
A founding partner of one of the largest private cosmetic plastic surgery practices in Texas, The Aesthetic Center for Plastic Surgery, Dr. Patronella has been performing a variety of body contouring and facial rejuvenation procedures on women and men for more than 20 years. He is board certified by the American Board of Plastic Surgery (ABPS) and a member of both the American Society of Plastic Surgeons (ASPS) and the American Society for Aesthetic Plastic Surgery (ASAPS). He received his medical degree from the University of Texas Medical School in Galveston, Texas. Dr. Patronella has gained attention from various print media sources, including Forbes Magazine, Texas Monthly, H Texas Magazine, and Health and Fitness Sports Magazine.