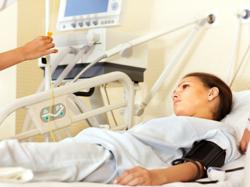 Most people have never heard of adhesions, yet adhesions occur in an estimated 93% of patients who undergo major abdominal or pelvic surgery! Why aren't the doctors forthcoming about this all-too-common debilitating disorder?
(PRWEB) May 14, 2012
Intestinal obstruction, or the blockage of the digestive tract, is responsible for 20 percent of acute surgical admissions, according to an article in the Vol. 8, No. 1 issue of "Perspectives in Nursing," a publication of Saxe Healthcare Communications. Out of these admissions, up to 80 percent are related to an obstruction of the small bowel, or the upper intestinal tract. Author Vicky P. Kent, RN, PhD, CNE notes that the majority of these admissions begin in the ER with patients who report with abdominal pain, bloating, nausea and other symptoms of obstruction.
Karen Steward, an author who dedicates her time to working on behalf of patients who suffer from Adhesion Related Disorder, or ARD, expressed concern today that ARD sufferers who report to the ER with acute abdominal pain are not being evaluated for small bowel obstruction. Steward's daughter Melissa, who suffered from adhesions for 14 years before having surgery in Germany to remove the scar tissue, reported to the ER on numerous occasions with abdominal pain before a small bowel obstruction related to intra-abdominal adhesions was accurately diagnosed.
"ER doctors are on the front line when it comes to diagnosing adhesions and preventing dangerous complications like small bowel obstruction," Steward said. "But the American medical community is failing people like my daughter Melissa, who report to the ER with severe abdominal pain only to be given pain medication and sent home. Because adhesions can't be visualized with CT scans or X-rays, ER doctors have to be aware of possibility that these internal scars exist."
Steward and her daughter reported to their small local hospital in the early years when Melissa's severe abdominal "attacks" began. Time and again, emergency room personnel suggested Melissa had the flu. Each time, Steward insisted the pain her daughter was suffering was not the flu, yet emergency room personnel refused to listen. Steward soon learned it was senseless to take her daughter to the local hospital when Melissa's stomach attacks came on, rather she drove thirty minutes to a larger emergency department where Melissa could receive a thorough diagnostic evaluation.
"The emergency personnel in the larger city always responded to Melissa's symptoms, but oftentimes she would have to wait in a room for an hour or more before being treated," Steward says. "Meanwhile, she was suffering excruciating, unnecessary pain. I recall two different occasions when the ER doctor profusely apologized for leaving Melissa to suffer an extended time after arrival, stating they had no idea she had a bowel obstruction until the results of the X-ray were delivered. Perhaps doctors become accustomed to the involuntary moans emitted from someone suffering immense abdominal pain; however, given the fact that a bowel obstruction can certainty be life-threatening, ER doctors should be more carefully trained to recognize these type of patients and assess their condition as quickly as possible."
While surgery is the most common reason for abdominal or intraperitoneal adhesions, internal scar tissue formation may be caused by inflammatory conditions or infections like peritonitis or appendicitis. Scar tissue in the abdominal organs may cause the intestines to twist or kink, creating a blockage in the bowel. Patients with small bowel obstruction may experience one or more of the following symptoms:

Abdominal cramps or colicky abdominal pain
Abdominal bloating
Altered bowel sounds
Nausea and vomiting
Constipation, diarrhea or both
Failure to pass gas
If left untreated, bowel obstruction may damage the intestinal tissue, leading to an internal infection, tissue death or bowel perforation. Early detection and prompt intervention are imperative for preventing death. As Kent notes, the mortality rate for intestinal obstruction decreases significantly with prompt intervention. Medical malpractice expert Dr. Jack Sacks, Esq. states in a February 2012 article on small bowel obstruction: "There is no reason anyone presenting to the emergency room with a small bowel obstruction should die in the hospital."
"Even after Melissa's intestinal obstructions were diagnosed, her doctors never told us what was causing her symptoms," Steward says. "As Kent points out, 20 percent of acute surgical admissions are related to intestinal obstruction, and many of these patients come through the ER. Yet my daughter's experience and the experiences of many of the patients I work with indicate that many adhesion sufferers whose intestines are obstructed aren't receiving prompt care or accurate diagnosis in the ER. Unless you know you have adhesions, you are likely in the dark as to why you are in such excruciating pain. Emergency doctors should know the signs and risk factors for adhesions and apply this knowledge when they assess a patient with abdominal symptoms. People who suffer from adhesions shouldn't have to wait until they have an acute bowel obstruction to find out why they are living with debilitating pain."
Karen Steward is the author of the book Doctors: Bound By Secrecy? Victims: Bound By Pain! Steward's daughter, Melissa, suddenly became ill at age thirteen. Originally diagnosed with Crohn's disease and sent home to live with the excruciating abdominal "attacks," Steward became convinced her daughter had been misdiagnosed. Uncovering the truth behind the illness, however, was a nightmare. Fourteen years passed before Melissa was properly diagnosed, yet a mere four-hour surgery relieved her daughter of the agonizing condition. Steward now dedicates much of her life to ARD awareness.