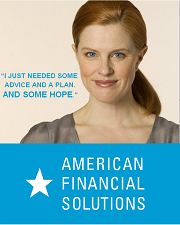 You don't have to have debt to have good credit.
(PRWEB) May 08, 2012
As the numbers for consumer spending continue to tick upward, many Americans are noticing their debt growing, too. American Financial Solutions offers six tips to help eliminate debt and keep finances from getting out of control.
1. Create a spending plan. Cover all of your normal monthly bills and expenses as well as building in a cushion for the little extras you enjoy throughout the pay period or month. Then set aside an amount for two additional items: extra debt repayment and savings.
2. Snowball, avalanche – whatever name you choose, this method for paying down debt can cut years off of your repayment and it is better than a debt consolidation loan. Using the extra money you are setting aside for debt, you focus the payment on either the lowest balance debts or the debts with the highest interest rates. Focusing on paying down the accounts with the highest interest rates will save you the most money, but paying off debts sooner (lower balances) can be a fantastic motivator to stay on track.
3. Avoid borrowing to get out of debt. A debt consolidation loan may ultimately increase the amount of money you repay in interest. In addition, if the loan pays off credit cards, some people have a difficult time resisting using the cards again and can end up in double the debt.
4. Use cash only. This can be very helpful for helping to control areas of "leaky" spending. Set an amount of cash aside for impulse or fun spending such as dining out, lottery tickets, coffee, shoes, etc. When the cash is gone the spending stops until the next payday.
5. If you are someone who has difficulty sticking with cash, leave the credit cards at home. Instead take only the amount of cash you can afford to spend when you go out.
6. Talk to your creditors. Explain your situation and ask them to reduce your interest rates or allow you to make more flexible payments.
7. All of these tips rely on one thing: having additional money to put towards debts. The unfortunate reality is that many people are struggling just to make ends meet. If this is the situation, consider contacting a certified credit counseling agency. Credit counseling agencies offer numerous services and can help with resources such as:

A debt management plan (DMP) – a DMP is very similar to a debt consolidation loan in that people have one monthly payment. The difference is that a DMP is not a loan. Instead it is a payment arrangement with creditors who provide benefits such as reducing interest rates, stopping late and over the limit fees, stopping collection calls and re-aging accounts so that they show as current rather than behind.
Assisting in budget development
Help in understanding credit and positive ways to develop or maintain credit reports
Foreclosure intervention and assistance for people who are behind on their mortgage payments
Pre bankruptcy credit counseling and post bankruptcy debtor education
Most services provided by credit counseling agencies are free. Always choose an agency accredited by the National Foundation for Credit Counseling or the Association of Independent Consumer Credit Counseling Agencies.
It is important to recognize that getting out of debt is usually not done quickly. Patience, time and perseverance are helpful qualities to have when working on eliminating debt. However, the lifestyle people establish during the process can be extremely rewarding. Imagine your money earned going solely towards the items important to you rather than towards interest and fees.
American Financial Solutions (AFS) is a non-profit 501(c)3 financial education and credit counseling agency that helps people find solutions for managing their money and improving their financial lives. Since 1999, AFS has helped individuals across the United States through one-on-one counseling, classes and the use of debt management plans. AFS is a member of the National Foundation for Credit Counseling (NFCC) as well as the Association for Independent Consumer Credit Counseling Agencies (AICCCA). AFS is also accredited by the Council on Accreditation (COA) and has an A+ rating by the Better Business Bureau. Find us and add us on Facebook, Twitter and Google+.