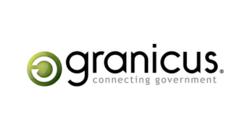 We're pleased to see our performance accelerate into 2012. It shows that governments are embracing the cloud more than ever before to become more cost-efficient, collaborative, and transparent
San Francisco, CA (PRWEB) May 08, 2012
Granicus, the leading provider of cloud-based technologies for government transparency, efficiency, and citizen engagement, today reported 119% sales growth in Q1 2012 over Q1 2011. This number extends the growth trend Granicus experienced in 2011 of 90% year-over-year sales growth.
"We're pleased to see our performance accelerate into 2012. It shows that governments are embracing the cloud more than ever before to become more cost-efficient, collaborative, and transparent," said Tom Spengler, CEO and Co-Founder of Granicus. "Granicus is seeing the adoption of our cloud platform rise as towns, cities, counties, state, and federal agencies strive to reduce costs by simplifying their old way of doing business. Instead of involving lots of paper, people, and complex processes to manage legislation and engage the public, governments are increasingly leveraging the convenience and cost-efficiency our cloud-based applications to run smarter and produce better outcomes," added Spengler.
Growth trends continue
Over the past quarter, Granicus particularly saw more traction in the executive and legislative branches of state government with a 500% increase in sales to this vertical over Q1 2011. Some of its newest clients in this market include the Montana State Legislature, the Hawaii Board of Education, and the New York Office of Mental Health. "Government-to-citizen technologies are on the rise among large government entities because they are under pressure to provide the public with as much access as possible to their public meetings and records—both online and over mobile devices," said Spengler.
Granicus is also seeing a gradual increase in monthly re-occurring revenue; this trend is punctuated by the company's 117% monthly managed service revenue growth over Q1 2011. The company attributes this to its ability to continue to provide customers with exceptional services over the lifetime of their solutions—ensuring their data and applications are securely hosted, managed, stored, and delivered in the cloud. To date, Granicus celebrates a 98.3% client referability and 99.8% client retention rating.
Trusted by government
Granicus' cloud-based platform and products suites are currently being used by over 1,000 local, state, and federal governments in the U.S. and Canada—this includes 9 out of 10 and 50 out of 100 of the largest cities in the nation.
Customers are using Granicus' tools—including live and on-demand video, crowdsourcing and discussion forums, legislative recordkeeping and research portals—to connect and collaborate with their communities in meaningful new ways online. At the same time, they are relying on Granicus' workflow automation to run their policy-making process in a more cost-efficient and eco-friendly way. In fact, Granicus is launching a national "Go Green" initiative at the International Institute of Municipal Clerks Conference in Portland, OR on May 20th to promote the use of its paperless products including, iLegislate for the iPad and the Legislative Management Suite, which help reduce paper waste and save money.
About Granicus
Granicus, Inc. is the award-winning cloud platform provider for government transparency, efficiency, and citizen participation. It offers the first cloud platform and product suites designed specifically to help government agencies establish meaningful connections with citizens while reducing operational costs. Granicus has been recognized the past four years for being one of the fastest growing company private companies in the U.S., San Francisco, and the Silicon Valley by Deloitte LLP, the San Francisco Business Times, and Inc. Magazine.