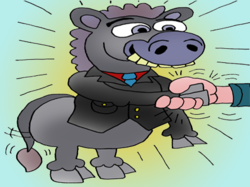 We want this software in as many students' hands as possible. It's going to change the way people study vocabulary, so we want to start them early.
New York, NY (PRWEB) May 08, 2012
For many students, no aspect of SAT prep is quite as nightmarish as the vocabulary requirement. Students are required to know hundreds of common SAT vocabulary words (and thousands of superfluous ones) in order to perform well on the Critical Reading portion of the SAT, and for many, there's no reliable way to study. Vivid Vocab, a new software developed by world-renowned SAT tutor Anthony-James Green, aims to change the entire method that students use to learn new words. To gain awareness of his software and its effectiveness, Green and his company, Test Prep Authority, are giving trial licenses away for free to schools around the world.
"Our software works because it's weird," says Green of Vivid Vocab's methodologies. "If you look around your bookstore or do a Google search for SAT vocabulary help, you'll find a hundred options, and all of them are exactly the same. They rely on flashcards, text, and very basic memorization techniques that basically haven't been altered since the Stone Age. Vivid Vocab is intentionally bizarre and different - it's this differentiation that initially gets us our strongest doubters. But all these doubters turn into our biggest evangelists."
Vivid Vocab teaches students new SAT words by crafting multi-sensory mnemonic stories which give students multiple "association anchors" which they can use to permanently learn new words. Using interactive software and a heavy investment in imagery, Vivid Vocab hopes to gain a foothold in the incredibly competitive test prep market.
To get an idea of how Vivid Vocab works, consider their mnemonic for the word "inundate," which means "to flood." Users are shown an image of a man and a woman sitting at a fancily decorated dinner table. The man is chatting away happily, while the woman looks on in terror as a massive tidal wave hovers above their table. Users are told that the wave, which is crashing IN ON THEIR DATE, is INUNDATING their evening.
Users are encouraged to repeat the mnemonic out loud, to form the story in their own words, and to use the other features of Vivid Vocab, which include a usage guide, synonyms, "explicit examples," and other features which help them to cement the words in their memories. Vivid Vocab also invested in professional voice-over artists to describe the mnemonic stories being illustrated, which helps auditory learners to catch up with their visual counterparts.
"If you just look at a flashcard, with text on the front and text on the back, you're out of luck," says Green, an SAT expert who developed the software as a direct result of watching SAT words go "in one ear and out the other" when students used traditional study methods. "Your brain is absolutely terrible at memorizing plain text. Estimates vary, but most people only remember 10-20% of printed information. That's bad enough, but when students are crunched for time and they need to memorize hundreds of these words, many of which are remarkably similar, they're at a serious disadvantage if they're using text methods to study."
To gain awareness of the Vivid Vocab method, Green and his business partners have decided to give free trial licenses of Vivid Vocab to schools around the country and the world.
"I don't think anyone should accept or dismiss a new learning method based on a sales pitch," says Green of the trial offer. "I want teachers and students to use the software themselves and get an idea of how this works. By giving licenses to educators, we're hoping that teachers will quickly see how obsolete most of their current vocabulary methods are. We developed this software to catch students up with developments in 21st century brain science and technology, and we want to give educators a risk-free way of rolling it out within their own learning environments."
Teachers and administrators interested in installing a free trial of Vivid Vocab at their schools simply need to visit the following link:
http://www.testprepauthority.com/VividVocabforEducators/
Once they fill out the attached form, they'll be contacted by the Vivid Vocab technical team, who will walk them through the free process of installing the software in their schools.
Vivid Vocab was written and developed by Test Prep Authority, a free resource center for ACT and SAT practice problems, articles, software, and more. Vivid Vocab is the brainchild of Anthony-James Green, president of Test Prep Authority and widely considered the best SAT tutor in New York.