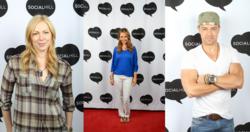 Hollywood, CA (PRWEB) May 08, 2012
Social Hill, Hollywood's most exclusive celebrity product lounge, teamed up with the Plastic Pollution Coalition this April to help stop plastic pollution and its toxic impacts on humans, animals and the environment. Social Hill supports a different charity every month and was thrilled to partner with this environmentally friendly charity to help make a difference in April.
Social Hill's celebrity lounge focused on helping achieve the charity's goals: ending the global dependence on disposable plastic, the primary source of plastic pollution, and reducing the overall global plastic footprint for individuals, businesses and organizations.
According to the Plastic Pollution Coalition:
Plastic creates toxic pollution at every stage of its existence: manufacture, use, and disposal. Plastic is a material that the Earth cannot digest. Every bit of plastic that has ever been created still exists, including the small amount that has been incinerated and has become toxic particulate matter.
Celebrities including Joey Lawrence, Laura Prepon and Beverley Mitchell all participated in raising awareness for the Plastic Pollution Coalition. Along with a few other charitable celebs, they donated their time by coming in to the Social Hill suite and learning about the cause.
Social Hill works with a different charity every month to raise awareness in the celebrity community, in turn, raising awareness within the public. For information on charity sponsorship, visit http://www.socialhill.com. For additional information on the Plastic Pollution Coalition, visit http://plasticpollutioncoalition.org