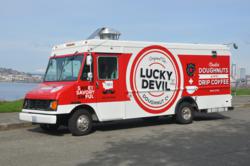 "We like to think that we're merging the 'foodie' with the 'junk-foodie' in the most delicious and irresistible way possible."
Seattle, WA (PRWEB) May 08, 2012
Lucky Devil Doughnut Co. (http://www.luckydevildoughnuts.com) is the latest-and-greatest mobile eatery to grace the streets of Seattle, and they'll be celebrating in style by giving away a free T-shirt with the purchase a dozen doughnuts on its opening day, today, in West Seattle at Uptown Espresso at California and Edmonds.
Lucky Devil's consistently sinful signature doughnut is a treat called the "malasada," which originated in Portugal. Prepared hot and fresh to order, these fried confections have been perfected from a 100-year-old yeast dough recipe that is lighter, more "eggy" and slightly sweeter than that of most doughnuts. Traditionally topped with granulated sugar, this "un-holey" Lucky Devil incarnation is square in shape.
Meaning "light-roasted," mal-assada arose from the need to use up all the lard or butter and sugar in a Catholic Portuguese household prior to the start of Lent and its associated fasting. In 1878, emigrant laborers from Madeira and the Azores transported this tradition halfway around the world to the sugar plantations of Hawaii, where its popularity took hold: To this day, the religious holiday of Shrove Tuesday (also called Fat Tuesday, Mardi Gras and, in Portuguese, Terça-feira Gorda) is known as Malasada Day in the Hawaiian Islands.
In addition to the signature, hot-n-fresh malasada, the Lucky Devil food truck will feature 5 other doughnut varieties, 10 daily specials and "Hole-y Rollers," their version of the doughnut hole. Offerings are served up with a generous helping of humor, as demonstrated by the long list of cleverly named rotating specials including:
o POG – Orange filled doughnut with Guava and Passion frosting
o Hawaiian Host – Hawaiian Chocolate and Mack Nut crusted doughnut with a caramel drizzle
o Babe the Blu Ox – Mapel bar with bacon
o The King — Peanut butter-glazed bar topped with a halved banana slice
o Bangkok Dangerous — Savory vanilla doughnut with Sriracha-and-sweet-chili glaze
o Cherry Bomb — Cherry cake with cherry glaze
o Evan Dando — Lemon-filled vanilla round with lemon glaze
o Moonwalker — Marshmallow-dipped round topped with crushed Oreos and an American flag
o Dogleg Left — Chocolate doughnut with mint icing and a vanilla doughnut hole
o Surfer's Breakfast — A scrambled egg with SPAM sandwiched between two glazed or plain doughnuts
o The Big Dipper — A Texas-style one-pounder, glazed, no exceptions
o Marie Antoinette — Vanilla French pastry cream-filled round, dusted with powdered sugar
o Fred and Barney — White-iced round dipped in Fruity or Cocoa Pebbles
o Fool's Gold — Grape jelly-filled 2x bar with peanut butter icing topped with bacon
o The Man in Black — 70% cocoa icing on a chocolate doughnut topped with a morsel of 70% chocolate
o Al Roca — Vanilla round dipped in chocolate and almonds with caramel drizzle
o The Lucky Devil — Chocolate Cake doughnut dipped in ghost chili chocolate glaze, with Cherry Red Drizzle
o RED EYE — Vanilla cake doughnut with coffee icing dusted in espresso powder
o Dolly Parton — Two cream-filled, cherry-iced doughnuts, each topped with a cherry
o Hole-y Rollers — Doughnut holes that can be tossed with a sweet or savory choice of sugar, cinnamon sugar, powdered sugar, cocoa, nacho cheese, sour cream and onion, zesty dill, or buttermilk ranch
Sin a Little or Sin a Lot Prices:
o $1.00 for plain or basic flavors and malasadas
o $2.00 for bars and fills
o $4 for gourmet flavors (which are larger)
o $5 for ½ dozen
o $10 for a dozen
Schedule:
Opening day is Tuesday, May 8, 8 a.m. to 2 p.m. at Uptown Espresso in West Seattle, at the corner of California and Edmonds.
Please refer to our FACEBOOK Page for additional times and locations: https://www.facebook.com/LD.Donuts.
Because no doughnut experience is complete without caffeine, they'll be pouring local favorite Lighthouse Roasters drip coffee to pair with their sinful treats.
Lucky Devil further ups the ante by providing the chance to instantly win tasty prizes. Whatever their purchase, customers are invited to look under their box, bag or cup, and if they find the number 777 "The Number of the Yeast," they will receive a certificate for a single doughnut of their choice on the house.
Owner and founder Josh Goldman spent ten years in Hawaii as a child, a tenure that engendered his life-long love of malasadas and led to the Lucky Devil Doughnut Co. concept.
Goldman, a chef, got his start with Thierry Rautureau at Rovers 20 years ago. He began as a dishwasher and moved up to line cook, which inspired him to attend the C.I.A. Upon receiving certification, he returned and worked for Tom Douglas at Etta's Seafood, and includes Ray's Boathouse, Nordstrom Café, City Catering and the Rainier Club on his resume.
"Luck is part of who we are," says Goldman," and we want to pass that on to our customers. In a world of mass-produced confections, we're here to rise to the occasion and make, hot, fresh, made-to-order couture doughnuts guaranteed to bring a smile to your face, whatever the weather, whatever kind of day you may be having. We like to think that we're merging the 'foodie' with the 'junk-foodie' in the most delicious and irresistible way possible."
For more information or schedule details, visit Lucky Devil Doughnuts on Facebook at: https://www.facebook.com/LD.Donuts.
# # #
Media Contacts: Lori Randall
Randall PR / (206) 402-4328