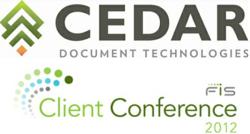 Visit the CEDAR booth (#602) to see a demo of CEDAR's Agile Communications Platform.
Atlanta, GA (PRWEB) May 08, 2012
Conference attendees who visit the CEDAR booth (#602) will be given a demo on the capabilities of the CEDAR Agile Communications Platform and how it can help financial service providers enhance their customer communications and correspondence.
This year's FIS Client Conference will be held at the Frontier Airlines Center in Milwaukee, WI, May 14th through 17th.
For more information on CEDAR Document Technologies or to schedule a meeting at the conference, send an email to jstancil(at)cedardoc(dot)com or visit our website.
About CEDAR:
CEDAR Document Technologies is a leading provider of hosted multi-channel customer communications and account self-servicing capabilities. CEDAR works with financial institutions to improve and accelerate their end-to-end processes for all high value customer communications. CEDAR's customer communications management platform lives between your core and your customer, aggregating and transforming customer account information into impactful, personalized customer touches such as statements, notices, alerts, and on-demand letters. The CEDAR platform offers business users the empowerment to manage changes to communications content at the same rapid pace of regulatory and critical business direction change.